The Commission on Human Rights and Administrative Justice (CHRAJ) has appealed for public support against corruption in a renewed campaign to root out the canker.
At the launch of the anti-corruption campaign Monday, CHRAJ Boss, Joseph Whittal said Ghana losses ¢30billion annually through payment of salaries to ghost workers.
He said the society will continue to suffer if nothing is done to eliminate corruption.
"Corruption facilitates generalised disrespect for the law [and] it is responsible for the provision of poor quality services in education, in health, sanitation and electricity," Mr. Whittal said.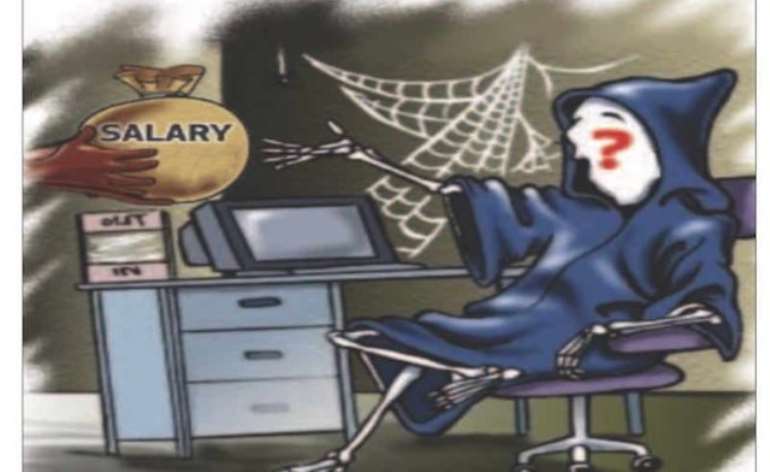 Sketch of a ghost worker The government announced this year that it has saved the nation the sum of ¢443million after it deleted 26,589 names from the payroll.
Related Article: Removal of 26,589 ghost names has saved Ghana GHC443m – Akufo-Addo
Prior to the payroll audit, the Finance Ministry spends over ¢36million per month on the salary of the ghost workers.
There are also plans to migrate all public sector workers onto the Ghana Interbank Payment and Settlement Systems Limited (GhIPSS) platform to avoid manual manipulation of the payroll.
But the country continues to lose money to ghost workers despite the government's effort, CHRAJ has said.
Speaking to anti-corruption campaigners in Accra, Mr. Whittal said the fight against corruption should not be seen as the duty of only one individual or institution.
He said because corruption is a "system" the only way to eliminate it is through a concerted effort.
"Not one sector can fight it alone," Mr. Whittal said, adding it was for this reason that the National Anti-Corruption Action Plan (NACAP) has a role for everyone.
But Senior Minister, Yaw Osafo Maafo has reiterated the government will deal with former appointees who are found to have engaged in corrupt acts.
"Investigations are still going on and very soon the results will be out for every Ghana to hear and to see," he said.