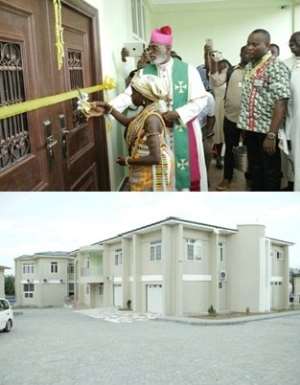 A GHC1.9 million multi-purpose secretariat built in Koforidua by the Diocesan Catholic Church, has been inaugurated.
Construction works started on it in year 2013, and it comes with an auditorium, 11 offices, three conference centres, store rooms, reception and kitchen.
It is fitted with solar panels, closed-circuit television (CCTV) cameras and internet facility.
The formal opening of the building was timed to coincide with the silver jubilee of the diocesan church and on hand to perform the ceremony was the Catholic Metropolitan Archbishop of Accra, the Most Reverend Charles Palmer-Buckle.
He said it was his prayer that anybody entering the place would receive their heart-wishes from God, would find inner peace and eternal salvation.
He called for the church to focus on healing the society of its wounds - helping people to smooth over their differences and to live in peace and harmony.
Bishop Joseph Kwaku Afrifa-Agyekum, the Diocesan Bishop, praised his predecessor, the Most Rev Palmer-Buckle, for the vision and great work he started.
He also hailed the church's project committee for the hard work and dedication.
GNA
By Benjamin Akoto, GNA