We Are Shocked At The President's Stance On Homosexuality---Concerned Muslim Youth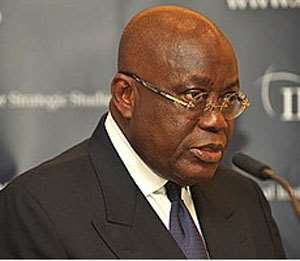 We the concerned Muslim youth of Ghana are utterly shocked by recent comments made by President Nana Akufo-Addo to foreign press on the subject of homosexuality.
In that interview, the President subtly endorsed the abominable acts of gays and lesbians and indeed encouraged those in Ghana to form groups in order to agitate for its legalisation in the country.
Asked if he will endorse the legalisation of homosexuality in Ghana, the President Nana Akuffo Addo said, ''It is bound to happen'.
We are not only appalled by the the responses of the President, we are also scandalised that we have a moslem vice President and a minister for Zongo development who equally share this position with the President of Ghana.
For the record, homosexuality is an abomination in Islam and we expect Dr. Mahmudu Bawumia and Alhaji Boniface Sadique Abubakar to resist the position of the President, if they are true moslems who believe in the teachings of the prophet mohammed (PBHN).
It will be recalled that, Dr. Bawumia prior to the 2016 elections called on Ghanaians to vote for the NPP to bring religious balance to the Presidency.
Today, Dr. Bawumia and Boniface Sadique Abubakar are looking on whiles Akufo-Addo is welcoming abominable ideas to the seat of government which is a total disregard for Muslim values and teachings.
We are hereby condemning, in no uncertain terms, the subtle endorsement and encouragement of homosexuality in our country by President Akufo-Addo and the loud silence of our Muslim vice president and our minister for Zongo Development.
We also call on Dr. Mahmudu Bawumia and Alhaji Boniface Sadique Abubakar to distance themselves from the comments of the President or consider themselves fake Muslim who cannot provide moral leadership for the Muslim youth in Ghana.
Signed:
Sheikh Abdul Ganiyu Mohammed
Convener
0244708503
Mr Nurudeen Mohammed
Public Relations Officer
0242744719
Mr Omar Suali Sabi
General Secretary
0549518013