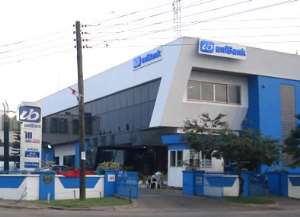 Indigenous Bank UniBank has been adjudged the best Corporate Social Responsibility firm at the 16th edition of the Ghana Club 100 awards held last night in Accra.
The award is to recognize the tremendous contribution of UniBank towards the socio-economic growth of the country through its numerous CSR activities across the country.
Newmont Akyem Mine came up as the runner-up in the CSR category.
This year's awards organized by the Ghana Investment Promotion Centre was on the theme " "Industrialization – A Tool For Job Creation And Accelerated Economic Development".
The event was attended by captains of industry and dignitaries such Senior Minister Yaw Osafo Marfo, Finance Minister Ken Ofori Atta, Business Development Minister Mohammed Awal, Deputy Trade Minister Carlos Ahenkorang and CEO of the Ghana Investment Promotion Centre, Yoofi Grant.
The Ghana Club 100 (GC 100) is an annual compilation of the top 100 companies in Ghana to give due recognition to successful enterprise building and was launched in 1998 by the Ghana Investment Promotion Centre (GIPC). Companys were ranked based on three main criteria namely size, profit, and growth.
Some of the categories are
Top three firms- 1st Newmont Ghana Ltd. 2nd MTN, 3rd Goil Ghana Ltd.
New entrants of the year- Nordic Capital,
The most Profitable firm- 1st Multi Pro Ltd, 2nd Vivo Energy 3rd Newmont Gold.
Most Child-Friendly - MTN
Highest Taxpayer - MTN
The largest company- 1st MTN, 2nd Goldfields Ghana, 3rd Goil
Best Listed Company- Starwin Ghana Ltd, 2nd Goil, 3rd Fanmik Ghana Ltd.