We Are Indebted To Ghanaian Farmers!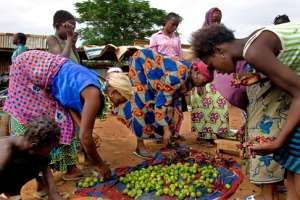 A strong army, the adage says, goes on its stomach. Thus, for any human being to survive, he must be fed well with quality food. In Ghana, we continue to tout agriculture as the backbone of the economy. This stems from the role agriculture plays in the economy such as provision of food to feed the people, employment generation, provision of raw materials to feed the industries, foreign exchange earnings through exports, income to the farmers, among others.
Unfortunately, the average production of the Ghanaian farmer is still small and the standard of living of the farmer is nothing to write home about. Whilst the 6% of people involved in agriculture in the developed countries - US, UK, etc are not only rich, but also, are able to produce enough to feed their countries and export some, the opposite is the case in Ghana. The over 60% of people involved in agriculture are poor. No wonder Ghana is a net-importer of food.
The Ghanaian farmer is still faced with the age-old problems inhibiting agriculture growth. For over 60 years now since independence, not a single agricultural problem - inadequate capital (finance and machinery), post harvest losses, natural phenomena, poor infrastructure, poor seedlings, inadequate extension services, etc has been solved. This, I strongly believe, is making a mockery of our agricultural policies and institutions.
For Ghana to ensure food security, improve the standard of living of the farmer, and grow the economy better, there is an urgent need to proffer practical solutions to the above-mentioned agricultural problems. The NPP government has taken a giant step in the "Planting for Food Jobs", as well as the "One Village, One Dam".
However, more needs to be done by giving affordable loans to farmers, mechanise agriculture, give guaranteed price, check post-harvest losses, construct more feeder roads and support farmers with insecticides.
There is no doubt that setting a day aside to recognise the role of our noble farmers is good, but the celebration will be meaningless unless it is linked up with the improvement of the living standards of farmers.
In this sense, the government should double its efforts in devoting more funds in its yearly budget to agriculture. This will make food available to sustain the free senior high school programme.
As a cocoa farmer, I take this opportunity to say "Ayekoo" to all farmers. We salute you today and forever for your hard work!
Katakyie Kwame Opoku Agyemang
Asante Bekwai-Asakyiri
"Vision, coupled with persistency, results in true success"