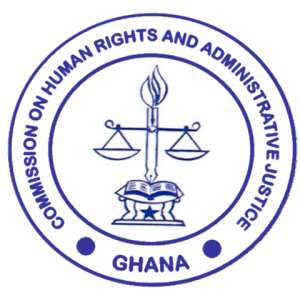 Accra, Nov. 29, GNA - The Commission on Human Rights and Administrative Justice (CHRAJ) and its partners, will host its 2017 Anti-Corruption Week and National Anti-Corruption (NACAP) conference on from Monday, December 4 to Saturday to December 9.
A statement signed by Mr Richard Quayson, the Deputy Commissioner of CHRAJ, and copied to the Ghana News Agency, said the Week was being organised in partnership with the Office of the President, Attorney General's Office, Ghana Anti-Corruption Coalition, made up of CHRAJ, EOCO, IEA, GII, PEF, CDD, GJA, GCRP], Judicial Service, NCCE, Ghana Police, NAPRM, Penplusbytes, IMANI, EU/ARAP, US Embassy/USAID, STAR Ghana, STAAC and other Stakeholders.
It said: 'Ghana, through its Parliament on 3rd July 2014, adopted the NACAP as the national strategy and blueprint to combat corruption in the country over a 10-year period.'
It said the main purpose of NACAP was to mobilise efforts and resources of stakeholders, including the Government, public sector institutions, civil society, private sector, the media, faith-based organisations, traditional authorities and individuals, to prevent and fight corruption through the promotion of high ethics and integrity and the vigorous enforcement of applicable laws.
The statement said since the introduction of the NACAP, the nation had been organising the annual National Anti-Corruption Conference coordinated by CHRAJ, to review the State of Corruption and the progress made in the implementation of the NACAP and anti-corruption measures, generally.
It said the Conference, which was usually organised on the December 8 and 9, devoted the first day to technical work, whilst it said, 'The 9th is more ceremonial as it commemorates the International Anti-Corruption Day.'
According to the statement, 'As this year's programme also coincides with the [email protected] celebrations, the multi-stakeholder planning committee has branded the week December 4 - 9, 2017 as Anti-Corruption & Transparency Week [ACT 6/0], symbolising six days of zero tolerance for corruption.
It stated that the National and sub-national activities would take place from Monday December 4, to Sunday December 10, where Ghana's indomitable spirit to fight and win the war against corruption would be showcased.
Key highlights of the Week are; Monday December 4 - Launch of Anti-Corruption & Transparency Week (ACT 6/0), Friday and Saturday December 8 and 9 - National Anti-Corruption Conference with President Nana Addo Dankwa Akufo-Addo, being the Guest of Honour.
'The Venue for the Launch and the Conference is La Palm Royal Beach Hotel,' the statement said. GNA