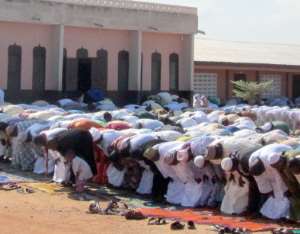 The Coalition of Muslim Organisations, Ghana (COMOG), has raised an alarm against looming danger against students of Ghana Lebanon Islamic Secondary School GLIS, who frequently use the Odawna railways route to school.
The faith based and non-partisan organisation said the activities of illegal settlers along the Odawna posed grave threat to the physical and moral lives of the students.
COMOG in a statement signed by Hajj Abdel-Manan Abdul-Rahman, its General Secretary and copied to the Ghana News Agency on Wednesday, noted that squatters in the slum illegally tapped electricity from service poles of companies in the area through the ground.
It said the live wires buried in the ground were of serious threat to GLIS students who walked to school through the railway station on a daily basis.
'This phenomenon is dangerous and we are therefore sitting on a time bomb, because any of these students could one day step on these wires and the consequences could be disastrous. It is important we prevent this from happening', it read.
The organisation further indicated that apart from the physical threat faced by the students, their exposure to open prostitution displayed at the area, open smoking of marijuana (wee) and cocaine, posed an even severer peril to their moral up-bringing.
'We have also gathered that some military and policemen with their vehicles are seen patronising the various spots scattered around the area. Some of the spots are owned by these security men we learnt.
'Anytime these military and policemen see somebody taking pictures of the area, they either confiscate the mobile phone or camera or beat the person up', COMOG added.
COMOG said almost all phone snatchers and thieves around the Kwame Nkrumah Circle were inhabitants of the area, known among them as the 'railway station ring of fire'
COMOG therefore called on government and authorities to deal with the slum that was being re-built after demolition in 2016 by the government.
COMOG suggested that a vibrant uncompromised group of security men be stationed there permanently to eradicate the long ignored danger posed by these illegal settlers.
It urged government to transform the land into a useful social facility like a car park for travellers who used the VVIP station.
GNA