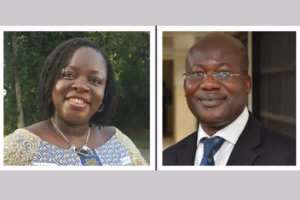 Professor Eric Yirenkyi Danquah, Director, West Africa Centre for Crop Improvement (WACCI) and the Biotechnology Centre of the University of Ghana, has been appointed a member of the Planet Earth Institution (PEI).
A statement issued by the University of Ghana and copied to the Ghana News Agency said the appointment to this Board was signed by Sir Christopher Edwards, Chair of the Planet Earth Institution Academic Board and Trustee of PEI.
It said PEI is a charity and Non-Governmental Organization (NGO) committed to accelerating science, technology and innovation in Africa.
The statement said it convenes a diverse range of international experts from business, academia, policy and civil society to identify and explore the most pressing challenges facing the continent.
It said that focused on five key areas of agribusiness, water and sanitation, public health, energy and blue-sky science, PEI achieves its mission through its prestigious events series, the PEI Partners Forum, and with their newly launched online platform, the PEI exchange.
It said the PEI Academic Board includes a range of active academics, experts in the key areas listed above and higher education professionals.
It said the Board also provides strategic advice to PEI's senior management and the charity's Board of Trustees.
The statement said members of the Academic Board hence act as advocates and ambassadors in promoting PEI's mission and vision, helping ensure the charity maintains standards of academic excellence across all their activities.
It said as a member of the Academic Board, Prof. Eric Danquah is expected to attend and contribute at relevant meetings, roundtables, conferences and participate as speaker where appropriate.
The statement also noted that Prof Nana Aba Appiah Amfo, Associate Professor and Dean of the School of Languages, has also been elected to the Consultation Board of the International Pragmatics Association (IPrA), making her the first African to be elected to the Consultation Board of IPrA since its establishment in 1986.
The International Pragmatics Association is an international scientific association dedicated to the study of language use.
It now has about 1,400 members in over 70 countries world-wide.
It is listed in The World of Learning, and it is a recognized member of the Consortium of Affiliates for International Programs of the American Association for the Advancement of Science.
Prof Amfo has been a member of IPrA since 2002.
"We congratulate Prof Eric Danquah and Prof Nana Aba Amfo and wish them successful tenures," the statement said.
GNA