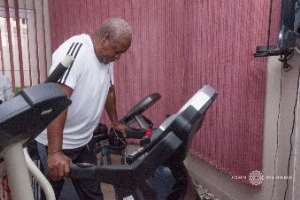 Former President, John Dramani Mahama turned 59 today and decided to spend his morning at the gym to kip in shape.
In a Twitter post, the former head of State advised Ghanaians to "exercise and keep to keep healthy".

Mr. Mahama served as Vice-President of the Republic of Ghana from January 7, 2009, to July 24, 2012, when he took over the reins of power after the demise of his boss, Prof. Mills.
He subsequently won the December 7 presidential election in 2012 but lost a re-election bid four years later.

After leaving power, the statesman has been serving as an observer missionary to other African countries' elections and has also taken time to go on a tour to advertise his well-written autobiographical book, "My First Coup d'état".

Today marks his 59th birthday and he has taken time to thank the people who wished him in a twitter post.