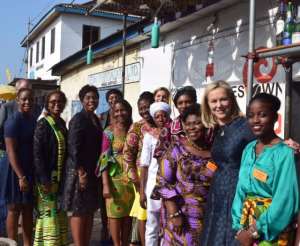 The Dutch Minister for Foreign Trade and Development Cooperation, Sigrid Kaag, made a one-day visit to Ghana her first visit to the Continent.
The visit on Monday since she took office some weeks ago, is to reaffirm and further strengthen the relations between the two countries.
The two countries are working on a development cooperation which focuses on trade and investments, initiated by the Dutch "From Aid to Trade" Agenda.

This aligns strongly with the Ghana Beyond Aid agenda of the Akufo-Addo government.
Empowerment of the private sector and entrepreneurship are considered to be the main engine for economic growth for which reason Minister Kaag emphasised "is not only good for Ghana but also provides opportunities for Dutch companies and investors".
Issues of how to boost the economic interest of both countries were discussed as well as the creation of opportunities for mutual trade and investments will be high on the agenda.

She also had a meeting with some leading women in Ghana and Dutch entrepreneurs.
Minister Kaag visited the recently launched Safisana which processes waste to energy plant and Blue Skies fruit processing plant, both of which have benefitted from Dutch financial support.
Minister Kaag continued her trip to Ivory Coast, where she will join Prime Minister Rutte and Minister Zijlstra (Foreign Affairs) to take part in the AU/EU Summit.