Shepard to Shepard Clergy Network USA has Consecrated Pastor DenisAnane to Bishop Denis Anane, in East Hartford, Connecticut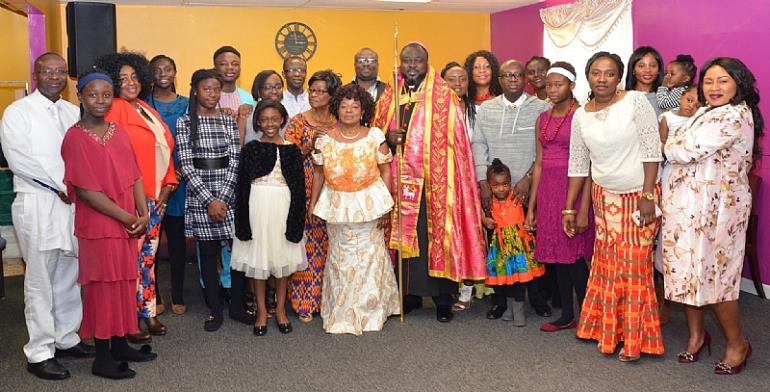 The entire city of East Hartford Connecticut was thrown into joyful mood when word went out that Bishop elect Dennis Kwame Anane was going to be consecrated.
The consecration ceremony was performed under the leadership of Arch Bishop Dr Daniel Antwi Boasiako the Founder of Shepherd to Shepherd Clergy Network in USA, at the auditorium of the Revelation Power Ministries on 91 Tolland Street, in East Hartford Connecticut.
" From a humble beginning and by the dint of hard work, sacrifice , passion and dedication this is how far the Lord has brought me. " Bishop Denis Anane noted.
Arch Bishop Dr Antwi Boasiako counselled the new "Bishop in town" to continue to humble himself and conduct himself worthy of the office for which he has been elected . As member of the Shepherd to Shepherd network it is expected of him to be a good ambassador of the network of Clergy. Dr Antiw Boasiako noted.
"Exhibit maturity, let your hidden talent shine and be seen, bear the fruits of faithfulness, build a true servant character, heal the broken hearts, be submissive to God and your authorities.
Do not rush for fame but rather let the fame locate you and finally let Christ be the cornerstone of the ministry". Arch Bishop Dr Antwi Boasiko emphasized
A certificate was presented to Bishop Denis Anane as a good standing member Shepherd to Shepherd Network of Clergy
Bishop Dei Asare Morris on his part tasked him to do more to win souls to the Kingdom of Heaven and all should join hands to flush out the untrained and nine day wonder preachers out from the noble and Holy work , since they are tarnishing the work of the Clergy using ill means to be known, but he is very much hopeful and confident that, " our own Bishop Denis Anane will never join the way of falling"
"Good leaders are very well trained , very well groomed, very well bred, very well prepared, tested and tried , and it is not easy and common to find one, by the Grace of the Lord Jesus Christ as such I can boldly stick out my neck today that we have found one in Bishop Denis Anane" Bishop Dei Morris said it boldly to the congregation.
Ever present and affordable Bishop Dr Alexander Adu Gyamfi of the Bible Believers Tabernacle aka BBT in New York , being the vice President of the Shepherd to Shepherd Clergy Network, USA called on the congregation to always be there to pray and support the church and their Bishop, since he alone cannot do it all.
Bishop Dr Adu Gyamfi admonished Bishop Denis Anane not to hesitate to call on them for consultation whenever the need arises, since it is the duty bound of the Clergy to give out wise counseling each other.
The newly consecrated Bishop Denis Anane in appreciation " without the wisdom, Mercy and Grace of God that has guided his family and church nothing would have been possible for me".
Again he expressed his profound gratitude to the leadership of the Clergy Network, his wife who has been with him through this level, the church , his family who were there to show tremendous love and support for him on this memorable day.
From : Prince Osei Bonsu. East Hartford , Connecticut.