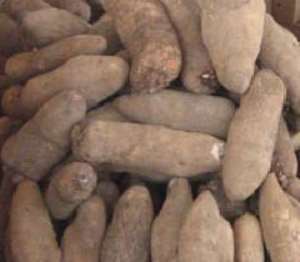 Mr Edward Owusu, the Atebubu-Amantin District Chief Executive has appealed for support towards the construction of the Atebubu Yam market project, costing the assembly GHC5.5 million.
He said with its Internally-Generated Fund (IGF), the assembly had completed the first phase of the project, which cost GHȼ2.9 million and urgently need additional funds to complete the project before the rains set in.
In an interview with the Ghana News Agency (GNA) at Atebubu in the Brong-Ahafo Region, Mr Owusu said the yam market was one of the biggest in the country, adding that due to its deplorable condition, traders were reluctant to pay their taxes.
He said currently the assembly could generate between GHȼ1,000.00 and GHȼ1,500.00 revenue from the market on daily basis and he was optimistic that on completion, the assembly would be able to rake in more revenue needed for development.
Mr Owusu said the project covered pavements, construction of drainage system, market sheds, as well as security lights and sanitary facilities.
Besides, the Assembly has prioritised some areas in its short term development plan and the construction of 40 bed capacity ward at the Atebubu Government hospital, one-storey district police headquarters, extension of water system, and 20-seater privy water closet toilets for the Fakwasi community.
The other projects, Mr Owusu added included; the renovation of the Atebubu main market and extension of street lights to newly developed areas and the assembly would require approximately GHȼ3.4 million to undertake these projects, and urged themto pay their taxes and rates regularly.
Mr Owusu entreated the assembly's tax revenue unit to intensify their revenue mobilisation drive and admonished tax collectors to be honest and assured the people of the equitable distribution of resources, asking them to support the assembly to generate more revenue.
Meanwhile, traders at the Atebubu Yam market have expressed concern about the deplorable nature of the market which was affecting their economic activities.
They told the GNA in an interview that stealing was rampant there due to poor illumination and security systems.
The market women also expressed dissatisfaction at the poor storage system in the market and appealed to the government to come to their aid.
GNA
By Dennis Peprah, GNA