November 26, 2017
|
Opinions Letters
A Letter To The Ghana Registered Nurses And Midwives Association, GRNMA, Executive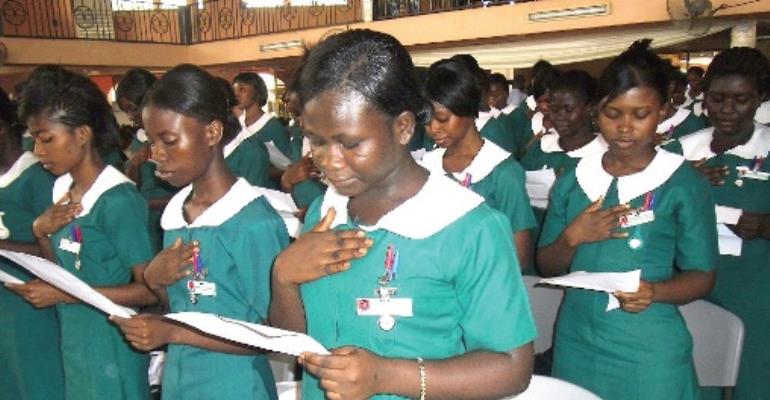 Dear GRNMA President,
Permit me to break protocols for the first time, as Ola Rotimi in the gods are not to blame asked how useful greetings are to a dying body, I am not in the mood to greet, because you and your executive struck me with a bad news! The news of a supposed increments in the dues that nurses and midwives pay to the association.
Dues that about 90% of members cannot tell what you and your executive use for. Did you just say we are not responsible members? That we are spectators? Well you may say so because we have ignored your insensitivity for far too long. We have endured bad leadership for a time I need a month to recollect how long it may be.
Sir, there is agitation all over the country. Majority of nurses are not happy with you and your executive for decisions you take on our collective behalf. Nurses and midwives have concluded calculating how much monthly compulsory deduction would be made from their salaries resulting from the increments.
Any of you that conceived the idea of increasing the association's dues has either lost touch with the Ghanaian nurse/midwife, or have no regard for the plight for him/her. Have you become artistically bankrupt that you don't feel the palpable suffering of your members? We do not appreciate your efforts, because much is left to be desired!
Mr president, we are sorry to disappoint you this time round! We are not ready and will not pay this increment a handful of you sat in cape coast to decide for us.
As GRNMA executive, the Ghanaian nurse/midwife expects you to:
1. Negotiate for better conditions of services for him/her, which you have not done enough on.
2. The Ghanaian nurse/midwife wants you to stand for him/her when he/she is treated badly by his/her superiors at the work place. Many nurses/midwives are suffering under wicked medical superintendents, directors, and more painfully matrons/DDNS' who should know better. Many have suffered in silence without any form of help from GRNMA.
Salaries are increased yearly, with each increase witnessing an automatic increase in the amount of dues we pay, because of the fact that the dues are in percentage terms. For instance, if one was taken a salary of say 400 Ghana cedis this year, and next year same gets an increase to say 450, the dues will also go up.
The increments are not justified enough and should be stopped in toto. You have given the Ghanaian nurse/midwife enough reason to have a rival association to force you to sit up or risk losing all your members to that rival association. You have shown that GRNMA needs new executive to man the affairs of her.
Respectfully, I wish to state that if you cannot make the Ghanaian nurse/midwife any better, don't make them worst of either.
I thought it would be prudent for you and your executive to learn best practices from other associations such as GNAT, who operates a financial system geared towards empowering teachers financially. This has brought economic relieve to some teachers who benefit from this good idea from their association. Nurses will appreciate it if such a system is put in place to better their financial fortunes.
There surely is nothing worst than asking members to pay more for dues you and your executive are yet to account to us.
Mr president, how much dues in total have we accrued as nurses and midwives for the past 5 years? What have you used our money for since assuming office as president?
How much money have accrued from the nurses hostel in Accra for the past 5 years? How much have you used to pay staff working for us at the hostel? How much profit is left in our coffers now?
What benefit does the Ghanaian nurse or midwife get from the hostel that is being operated with our money? Are you aware that most of the time nurses who travel to Accra are told the place is full, hence no space for them? Are you aware that most of the time when calls are placed to the reception of the hostel to make reservation of space the staff don't answer the calls?
Nurses and midwives very much appreciate the northern region reps, Volta region reps and the upper west reps at the 16th binneal conference held in cape coast for their stands and show of concern for the Ghanaian nurse/midwife. They have voted massively against this supafullous increase in dues. God bless them.
You cannot justify an increase to dues that you have not accounted to us.
Posterity will never forgive you if your tenure is the reason we have to form another association, for there is strength in numbers and unity. We will break away if you continue with this increment.
If you cannot built to add up to an existing ark, do not break what you have come to meet!
I am by this letter urging you to drop the increment
idea, because we have not accepted it, and will not pay too. The toad likes water but surely not when it is boiling!
Cheers!
J.A Mbangbe.
Registered dues paying member of GRNMA