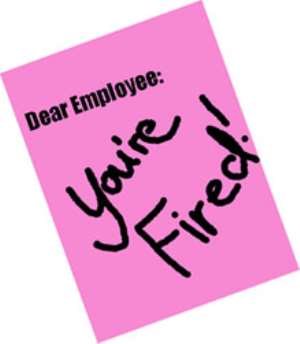 The Ghana Telecommunications Company (Ghana Telecom) Limited is to lay off its entire temporary staff numbering 47 in the Brong Ahafo region with effect from August 1, 2005. In all, 400 casual workers would be laid off nation wide. The Brong Ahafo regional Director of Ghana Telecom, Mr M. Owusu Benson who disclosed this in an interview with Space FM said, his outfit is undertaking such exercise as part of measures to streamline the company's activities. He said all those who would be affected shall be duly compensated and their social security contributions fully paid to them, adding that they have already been counseled and served with their letters since 7th of last month, notifying them of the decisions of the company. Mr Owusu Benson said the company had had numerous problems with some of its casual workers who used forgery birth certificates while others use the company's name to extort money from unsuspecting customers.
He said anytime such reports were made, with the names of the people involved mentioned, the company found it difficult to trace them because many of the casuals were not on the company's staff list.
Mr Owusu Benson said the move is, therefore, intended to rid the system of such people and to provide qualified person's with the opportunity to apply to fill any vacancies as a result of the exercise.