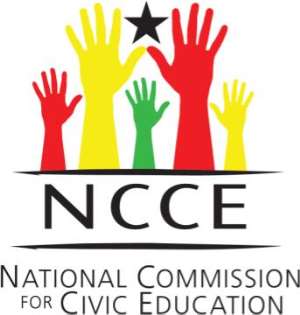 Deputy Chairman of the National Commission for Civic Education (NCCE), Mr. Samuel Asare Akuamoah, has underlined the need to focus priority effort on helping everybody to have better understanding of their civic responsibilities.
He said it was the way forward to the get people to uphold national values - do the right things to protect the nation's democracy and sustain it on the path of socio-economic progress.
Mr. Akuamoah was speaking to the Ghana News Agency (GNA) on the sidelines of the Eastern Regional senior high schools (SHS) Project Citizen Showcase competition in Koforidua.
The annual competition, organized by the NCCE is meant not only to empower students to learn how to develop public policies to solve community problems, but also learn how citizens could have power to monitor and influence public policy making in the community.
The other high point is that it would aid them to develop intellectual and participatory skills that promote authentic research, critical thinking, effective communication and reflective thinking.
The expectation is that the project would enable them to have strong democratic inclination that encourages the exercise of fundamental rights and responsibilities with commitment and confidence.
The chosen theme for this year's competition is 'Restoring our Ghanaian values: the role of the youth in nation building''.
Mr. Akuamoah suggested a re-introduction of civic education in the school curriculum.
He thanked the European Union for the support it had been giving to the activities and programmes of the Commission.
GNA
By Benjamin Akoto, GNA