Spain legalizes stay of 5000 Ghanaians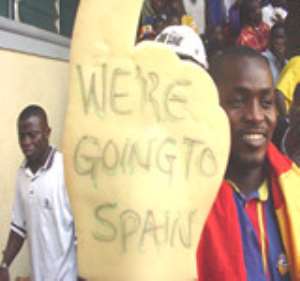 Accra, July 12, GNA - Mr Bernarndino Leon, Deputy Spanish Foreign Minister on Tuesday paid a courtesy on Papa Owusu Ankomah, Minister of Interior to discuss the regularization of stay of Ghanaian immigrants in Spain at his office in Accra. The visit also afforded the Spanish Minister the opportunity to strengthen the existing relations between the two countries in the areas of trade and the acquisition technical expertise.
Mr Leon said there are about 10,000 Ghanaian immigrants in Spain, of which 5,000 have been legalized by the Spanish authorities to stay and enable them to work in that country and return home safely. He commended Ghana for her immigration policies but, however, urged the government to put in measures to retain its human resource in the country. Papa Owusu Ankomah commended Spain for her assistance to Ghana over the years, especially in the area of training and the provision of grant for the rehabilitation of the Police Forensic Laboratory.
He said the legalization of residents for the 5,000 Ghanaians would provide opportunities for the people as well as increase their incomes. He also called on the Spanish government to assist his ministry financially to enable her to organize fora and seminars to educate would-be immigrants on the dangers of their trip, especially through the Sahara desert and across the sea.
Papa Owusu Ankomah appealed to the Deputy Spanish Foreign Minister to assist Ghana in her fight against narcotic drugs and illegal small in the country.