Odododiodio votes on August 30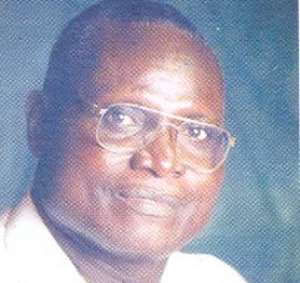 Accra, July 12, GNA - The Electoral Commission (EC) has set Tuesday, August 30, 2005 as the polling day for the by-election in the Odododiodio Constituency following the death of Samuel Ayikwei Mankattah(pictured), Member of Parliament (MP) for the area.
Voting would start from 0700 hours and end at 1700 hours at all the polling stations of the Constituency.
A statement issued in Accra on Tuesday and signed by Mr David Adeenze-Kangah, Deputy Chairman in Charge of Finance and Administration, said the Clerk of Parliament in accordance with Article 112 of the 1992 Constitution has notified the Commission of the occurrence of vacancy in
Parliament after the death of Mr Mankattah. The statement said the EC also in accordance with that provision had issued a Writ of Election to the Returning Officer (RO) of the Odododiodio Constituency.
The statement said nomination of candidates would take place at the Office of the Returning Officer, Ashiedu Keteke District on Wednesday July 27 and Thursday July 28 between 0900 hours and 1200 noon and 1400 hours and 1700 hours each day. Nomination forms can be obtained from the Returning Officer in Ashiedu Keteke District.
Every nomination must be proposed and seconded by two registered voters, respectively, and supported by 18 other registered voters from the Constituency, and the consent of the candidate must be endorsed thereon.
It said every nomination paper must be delivered to the Returning Officer with 500,000 cedis bank draft, two clear recent post-card photographs (bust) in colour with red background.
The statement said all questions relating to the election should be addressed to the Returning Officer at Ashiedu Keteke District. Since the inception of the Fourth Republic Nii Okaidja Adamafio won the seat two consecutive times in 1992 and 1996 for the National Democratic Congress (NDC), in 2000, Niibi Ayi Bonte snatched it for the New Patriotic Party (NPP) and lost it to the late Mankattah in Election 2004.