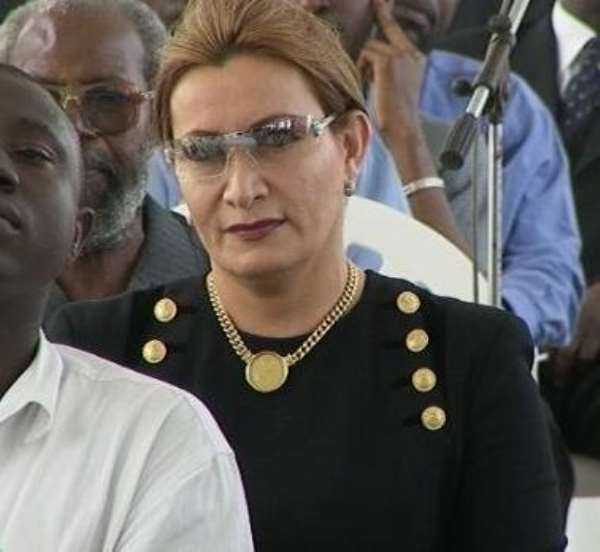 The Iraqi-American former advisor to President Kufuor has rubbished Ghana's Commission on Human Rights and Administrative Justice's enquiry into the president's role in his son's acquisition of Hotel Kufuor.
Gizelle Yajzi the enquiry launched by CHRAJ is inadequate.
" I don't believe in CHRAJ" she said.
According to her she was conducting her own investigations through the Berlin-based Transparency International (TI), the international anti corruption agency.
"I have met them in Berlin," she said.
This is the first time Ms Yajzi is speaking publicly since the original owner of the hotel Anthony Saoud spoke to journalists and rubbished her (Gizelle's) claim that President Kufuor bought the hotel.
She insisted that the recordings of the transactions were captured on tapes and that she had played them to President Kufuor.
She said she would not cooperate with CHRAJ because she doesn't trust the commission's boss Ms. Anna Bossman.
Ms Yajzi said even though she had received two letters from CHRAJ dated June 29 and July 4, 2005, the commission made a terrible mistake by attributing the controvert to her.
"I'm not the one who accused the President, It was a newspaper, a Ghanaian newspaper and the first person to mention that the President was involved in this matter, was the advisor of President Kufuor's son. I was asked about it and I said I know about it," she said.
According to her the President employed Ms Bossman and therefore she would not do a good job.
She accused CHRAJ's acting Commissioner of colluding with " people in government".
"She has to respond to why she had secret meetings with the people in government," she said.
Asked when the said secret meeting took place, Ms Yajzi said they were held in different locations since the hotel issue came up.
However she would not reveal the people who told her about the supposedly secret meetings as well as the identities of the people involved.
Ms Yajzi would also not want to reveal her nationality, claiming that it was purely a private matter.
"You know this time of my life, I am receiving not less than 20 calls everyday to tell me to keep quiet or I will be killed. I'm not going to give any of my private information," she said.