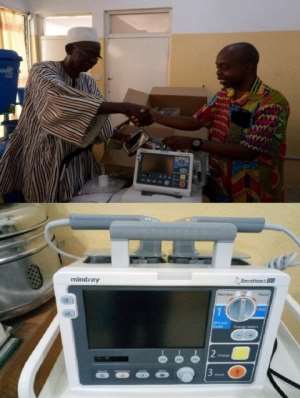 Bolgatanga, Nov. 21, GNA - Mr Len Bierbrier, President of Bierbrier Development Company in the United States of America has donated a defibrillator valued at about GHC36,500.00 to the Upper East Regional Hospital to set up an emergency system for patients with heart related conditions.
Mr Donald Amuah, National Coordinator of Routes to Africa, a Non-Governmental Organisation (NGO) who donated the equipment on behalf of Mr Bierbrier, said 'this donation is a result of a matured relationship in humanitarian assistance to underserved areas,'
He disclosed that it was Mr Bierbrier's hope that the gift would fill a niche although it was 'too small to solve all your problems.'
Dr Patrick Atobrah, Medical Director of the Regional Hospital who received the equipment at a brief ceremony witnessed by some top management members, expressed gratitude to the donor for the gesture, and said it was very much appreciated because it would not only benefit people with only heart problems.
'Even children with common infections can go into cardiac arrest, women in labour with complications can have cardiac arrest, so apart from adults getting myocardia disorders and heart arrests, any other person can benefit from the equipment,' he said.
The Ghana News Agency gathered that no health facility in the three Regions of the North was adequately equipped to manage heart related conditions.
At least, the Tamale Teaching Hospital which is the main referral centre for the Northern, Upper East and Upper West Regions can only manage severe heart cases and later refer to the cardiothoracic centre at the Korle Bu Teaching Hospital in Accra. GNA