Majority Leader Insists On 4 Years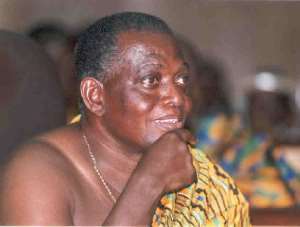 The Majority Leader in parliament also Minister for Parliamentary affairs Felix Owusu Agyapong says the proposal made by professor Stephen Adei of GIMPA that the tenure of the presidents should be extended from 4 to 7 years was not necessary at the moment "May be for the future generation" was his perception of the proposal.
Mr Owusu-Agyapong said considering the current democratic dispensation, a 4-year term of office for a president may not be enough in the light of the fact that there were obvious problems that needed to be addressed. But he thought the suggestion did not merit any public debate because there was no basis for such an argument at this time of the country's democratic dispensation, particularly when there has not been any public outcry for it.
The minister told the Network Herald in a telephone interview from his constituency that he was surprised at the development, stressing that the country has not yet had enough of the four-year term of presidency and as such there was no need to rush into any other system. He said for such an argument to be accepted, there was the need for all stakeholders in the current democratic dispensation to study or find out why other countries have adopted different years for their democratic practices.
According to the majority leader this issue could at best be a challenge to the media, researchers and professors, adding that it would do the country more good if academics like Professor Adei would educate the public more on issues of national development than just passing statements.
On the issue of two vice presidents, the majority leader said that was impossible because having two vice presidents would rather mean more expenses. "You can imagine how much it would cost a country to have two vice presidents," he pointed out.
The Akim Swedru MP was of the view that the issue of the number of ministers in government was a non-starter because it was in the interest of the government to have the number of ministers it has.
He said the number of ministers appointed for a country some times depends on factors like population, size of the country, and the number of developmental issues facing the country. He said he was aware of the structure in Malaysia where two vice presidents play various roles in the Malaysian government but added that one of the vice presidents was solely in charge of parliamentary affairs.
But this according to him does not suggest that the Malaysian government has a limited number of ministers, "I challenge any one who thinks there are more ministers in Ghana to find out the number of ministers in Malaysia.