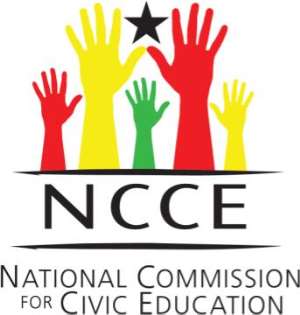 Ho, Nov. 21, GNA- Madam Josephine Nkrumah, Chairperson, National Commission on Civic Education (NCCE) has called on Ghanaians to support the Commission's efforts at promoting 'good and active citizenship.'
She said that had become necessary because, 'society has become rife with indiscipline, corruption, apathy to civic responsibility, mediocrity and a host of many negative traits'.
Madam Nkrumah who made the call at the 2017 Volta Regional Project Citizenship Showcase Competition among five Senior High Schools, noted that the 'thread' was negating lives daily and fast becoming part of national character and identity.
She said the Commission with support from the European Union (EU) envisaged that through the Project, they would bring to the fore factors surrounding retrogressive values and characteristics that potentially impeded national progress.
Madam Nkrumah said the theme 'Project Citizen' was to boost civic knowledge, good values and active citizenship among students and the youth at large.
She said the youth had direct impact on national development and the ability to influence social change and appealed to patrons of Civic Education Clubs and teachers to help strengthen the drive at nurturing the youth into responsible citizens.
Mr Kenneth Kponor, Volta Regional Director, NCCE, said the Project was also aimed at enhancing public speaking skills of students.
Sokode Senior High Technical emerged winners of the competition and were presented with a plaque and copies of abridged 1992 constitution. GNA
By Sumaiya Salifu Saeed/Rosina Oyivor, GNA