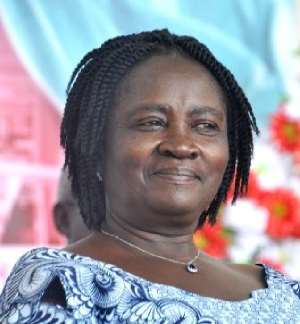 Former Minister for Education, Professor Naana Jane Opoku-Agyemang
I am still not sure what it is that supposedly provoked our Minister for Education, Matthew Opoku Prempeh, to embarrass himself and cause people to lower further their perception of him, with his public insults and vulgarism against Professor Naana Jane Opoku-Agyemang.
They are from two different political ideologies, yes, but must that by itself cause a person appointed by the State and who should be a role model to others, to behave and publicly, in that manner.
Professor Opoku-Agyemang cannot be said to be your usual politician, but off course one who has a firm belief in the Social Democratic Philosophy of the National Democratic Congress (NDC).
Of the many appointees of state over the years, Professor Opoku-Agyemang, Ghana's first female Vice Chancellor of a University, is thought among the few that did not only bring dignity to their positions but demonstrated that public service officers or political appointees can be focussed, measured, committed and dedicated to the job of implementing the vision of the leader/ President in a manner helps improve the lives of the Ghanaian people.
The academic credentials of the learned Professor, her contributions to society and her work as Minister for Education can obviously be fact-checked.
Why Hon. Opoku Prempeh will think and even want to describe as her as an embarrassment and one who does not understand education is simply mind boggling!
I guess his comments are borne more out of arrogance and the realisation that the standards set by Professor Opoku-Agyemang at the Education Ministry are far higher for him to stand up to, let alone surpass.
Here is a brilliant female scholar, a professional, an educationist and a patriotic Ghanaian whose diligent works and strong educational reforms have raised Ghana's image in education to enviable heights.
During her many years of academic journey, Professor Opoku-Agyemang served in a number of important roles including Head of the English Department, Dean of the Faculty of Arts and Dean of the Schools of Graduate Studies and Research, all of the University of Cape Coast.
Her hard work and proven competence culminated in her becoming the first female Vice Chancellor of the University of Cape Coast and the first female in Ghana's history to ascend to that position.
Of course, her pioneering ascension to the Office of Vice Chancellor, the highest position in academia, has served and continues to serve as a major inspiration for other females that they can rise to any position by merit once they set their minds to it.
Ten years ago, in March of 2007, when only five (5) scholars from across the world were selected to deliver presentations during the commemoration of the 200th Anniversary of the Abolition of Slavery at the United Nations Headquarters, Professor Naana Jane Opoku-Agyemang was one of those five (5) prominent scholars. Her selection to this high-level event as an eminent scholar from Ghana was certainly no disgrace to her country. Indeed, she made her country proud.
As Minister for Education, Professor Opoku-Agyemangwould continue in her excellence. In only four years, she led the Ministry to introduce critical reforms and took charge ofthe biggest investment in education in Ghana's history, from the basic to the tertiary levels.
Among many other interventions, the Ministry of Education introduced a historic BECE Private Candidates Policy and a policy of zero tolerance for teacher absenteeism, which saw a decline in absenteeism from 27% to a low of 7%.
Her Ministry also worked vigorously to end the shift system, by supervising the expansion of infrastructure and provision of required facilities at the basic level.
Again, under her stewardship as Minister for Education, Ghana for three (3) continuous years, topped the West African Senior Secondary Certificate Examinations (WASSCE) and in one of those years, all the three best WASSCE students came from Ghana.
The irony is that, if it were not for her ministry's decision to expand infrastructure in existing public secondary schools and also the construction of absolutely new Community Day Senior High Schools (SHS), which have created enrolment space for at least 50,000 SHS students, it would have been difficult, if not impossible for the NPP government to roll out their Free SHS programme.
Is this a woman Dr. Opoku Prempeh should insultingly call an 'embarrassment' and a 'disgrace'? Is this somebody who does not understand education? Is it because Professor Opoku-Agyemang is a humble and quiet person who does not wear her professorship in education on her sleeve?
What kind of arrogance would make a trainee- Minister who is still struggling to understand the mandate of his office, declare that a world-renowned and experienced educationist does not know anything about education?
One cannot help but recognise that such arrant disrespect for professional women, is not an individual character trait of Opoku Prempeh, but appears to be a reflection of the ruling Party, for if not, President Nana Akufo-Addo would have ensured that his Minister withdraws his embarrassing insult, and apologises to the former Minister.
But, didn't the whole party and its senior officials sanction such public diatribes on the Chair of the Electoral Commission, Charlotte Osei?
Listening to Dr. Matthew Opoku Prempeh speak on radio in defence of his actions makes one wonder the leadership he will be bringing to our educational sector, and whether we can expect anything better from the sector.
Our professionals, our women deserve better.
Joyce B. Mogtari
Accra