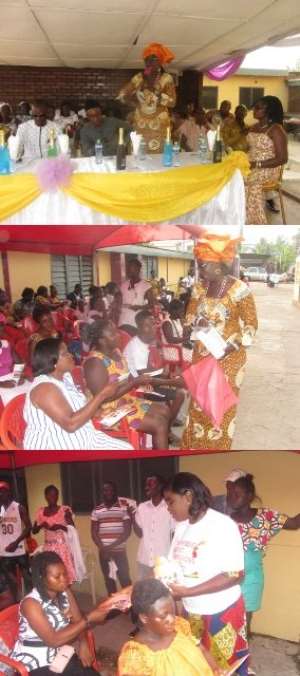 Madam Jane Amerley Oku, the Chief Executive Officer of Janok Foundation, a non-government organization, has called on Ghanaians to undergo regular health examination for early treatment of HIV and its related diseases.
She said information at the Accra Metropolitan Health Directorate indicate that 14 cases of HIV and its related disease of tuberculosis are recorded every day in the region, describing the situation as very alarming.
Madam Oku made the call in an interview with the Ghana News Agency when she carried out HIV/Tuberculosis (TB) prevention campaign at the graduation ceremony of five dressmakers at Lartebiokorshie in Accra organized by the Ghana National Tailors and Dressmakers Association.
She said according to health authorities, treatment of HIV and tuberculosis are available and people should not shy away from early detection and treatment to prolong their survival.
'We want to encourage everybody to check their health status and it is when the diseases are identified before the health attendants can take them on,' she said.
She said majority of the people in Accra who contracted the diseases were those who do not have places of abode and live risky lifestyles.
Madam Oku said: 'they are people like drug addicts, drug peddlers and prostitutes who apply their trade without the use of condoms for protection.'
She appealed to companies and stakeholders to help find occupations for these people by putting them into apprenticeships to learn some trades to become self-reliant.
The NGO has also extended the HIV/TB prevention campaign to four churches in the Lartebiokorshie area namely Abossey Okai and Mmemeete Methodist Churches, Pentecost and Presbyterian Churches respectively.
GNA