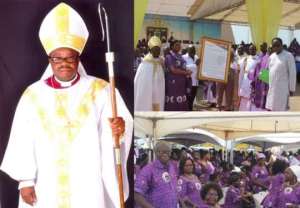 Right Reverend Dr Daniel Sylvanus Mensah Torto, the Diocesan Bishop of Accra of the Anglican Church, has advised Ghanaians to imbue the spirit of discipline in the discharge of their duties to hasten national progress.
When truthfulness, unity, respectfulness, integrity, discipline, hard work and respect for the rule of law, which Christ extolled in his teachings, are reflected in the daily lives of Ghanaians, Bishop Torto said, Ghana's success would be a model for other developing countries.
Bishop Torto made gave the advice in a sermon on Sunday during a Special Pontifical Thanksgiving High Mass of his Fifth Anniversary of Enthronement as the ninth Diocesan Bishop of Accra.
Bishop Torto has been the Bishop of Accra from November 2012 after succeeding Most Rev'd Dr Justice Ofei Akrofi.
Bishop Torto's episcopacy has been driven by the Vision- 'if we build they would come' which is underpinned by five major pillars namely; equipping and empowering church agents to deliver excellence, deepening spirituality, church growth based on discipline and integrity, financial sustainability and social impact.
Touching on Church discipline, Bishop Torto said Church discipline had been called 'the forgotten commandment', however, it should be obvious to all in the church that the devil has not forgotten it, otherwise, he would not so successfully oppose its implementation.
He said: 'Discipline is a matter of obedience and church discipline is settled by the clear biblical mandate of Mathew 18:15-20'.
He advised Christians to obey the will of God, respect authorities in church to invoke God's blessings.
He admonished parents to make it a priority to instil moral discipline in their wards to prepare them to lead responsible lives in future.
President Nana Addo Dankwa Akufo-Addo in a goodwill message congratulated Bishop Torto for his leadership and contribution towards the development of Ghana.
He said government was in dialogue with the churches to hand over of mission schools to help arrest declining moral standards in schools and imbibe in them the values of integrity, hard work, honesty and discipline.
He said the work of the Anglican Church, in several aspects of national life, educational and health sectors, continues to demand the deep appreciation and gratitude of Ghanaians.
The congregation prayed for the President and his cabinet, the security agencies and the citizenry.
A citation was presented to President Akufo-Addo for his enormous and continuous support to the Anglican Church.
GNA
By Kwamina Tandoh, GNA