Chop bar owners threaten strike action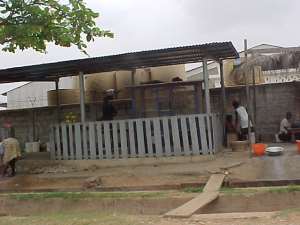 The entire members of the Ghana Traditional Caterers Association (GTCA) or cop bar operators have threaten to withdraw their services nationwide on Wednesday July 13, 2005 in solidarity with their colleague Madam Josephine Brobbey, who will reappear before a Sunyani Circuit court that day.
In this regard the National executive of the association has directed the executive of the in all 10 regions to mobilize as many of their members as possible from the various districts to storm the Sunyani Circuit court that Wednesday morning in mourning cloths and red bands.
Nana Apraku Tuffuor, The National Financial Secretary of the GTCA issued the threat at an emergency meeting at Sunyani at the weekend. It was attended by national, regional and all district executives of the association.
He said a fleet of vehicles had been hired to convey members from various districts to Sunyani at the weekend.
Mrs Brobbey who is the proprietress of Good Mark Foods, a leading chop bar in Sunyani is being prosecuted for failure to register and collect the Value Added Tax (VAT).
Nana Tuffuor has petitioned the Brong Ahafo regional minister, Nana Kwadwo Seinti to contact the VAT secretariat to stop its action in compelling Madam Brobbey to register and collect VAT since members of the association paid income tax and not VAT.
He noted with concern that instead of meeting members of association and the VAT Regional Secretariat to amicably resolve the impasse, the regional minister surprisingly invited Madam Brobbey alone to his office on June 30 2005 and together with Mr George Blankson, the deputy national operations director of VAT service forced her to sign a document to collect tax.
Nana Tuffuor said the woman declined to apprehend her signature to the document and later reported the matter to the national executive members of the association.
He warned that the GTCA would exert all efforts to compel the VAT Secretariat to abandon its idea of registering its members to collect VAT, since that would mean double taxation.
When Mr Blankson was contact on phone he said the meeting held with Madam Brobbey at the regional minister's office was aimed at explaining to her the need to register and collect VAT, which was needed to develop the country.
" We still stand by the principle of dialogue with the GTCA to ensure that the individual business of Good Mark Foods is registered for VAT voluntarily so that we can establish the basis for withdrawing the court case," he said.