Presbyterian Reformed Church In Brooklyn, New York Welcomes Consul General Professor Samuel Amoako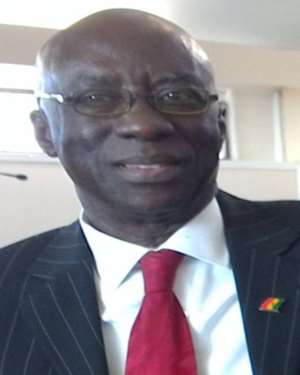 Ghana's Consul General to the United States of America, His Excellency Professor Samuel Amoako continues to live up to the expectations of the Ghanaian community as reactions from his daily interaction with the people confirm. His interactive work model has gained so much attention among the Ghanaian community that hardly will a week pass without granting aninvitation request to a community-based group.
Last Sunday, November 12th, 2017, he was once again invited by the Bethel Presbyterian Reformed Church in Brooklyn, New York to honor an annual harvest church service.
Addressing the well-attended congregation, the Consul General took the opportunity to remind his audience that he has been mandated by the president of the republic to undertake his duties as stipulated in the constitution. On that note, he will deliver to all Ghanaians resident in the United States without any discrimination.
Highlighting on his core duties, he remarked that his office is an embodiment of the political and economic ambassador of the president. Accordingly, his message has been to encourage Ghanaians to project the positive political image of the country to those they come into contact with and encourage investors to make Ghana their preferred investment destination.
He will therefore make it his main point at every function to preach the good news about the president's flagship programs (One District, One Factory; One Village, One Dam; Free Senior High School; Inner City and Zongo Development, and Planting for Food and Jobs) and use the opportunity to encourage people to invest in Ghana.
Professor Samuel Amoako also encouraged church members to help other members to complete passport and visa applications online.
He further asked for their support in creating a database for the U.S.-born Ghanaian children at the consulate for proper ancestral records to be kept for the Ghanaian families in the U.S.
Before he took his seat, H.E. Professor Amoako admitted that given the enormity of his task, he could not succeed without the congregation's prayer support. He, therefore, humbly and earnestly asks for the church's support.