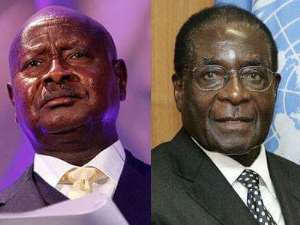 With greatest respect, it is entirely disingenuous to suggest that Uganda's president, Yoweri Museveni, is immune to a coup just because he purged his bush war comrades out of all sensitive positions from the army. The assumption here is that the new young guys that are occupying these positions are: unambitious, totally loyal to Museveni, are happy with nepotism, are happy with the idea of life presidency, are happy with a declining health care system, are happy with corruption, e.t.c.
I know for sure that there are a lot of people serving in this government but would celebrate Museveni's downfall. There are people in government not happy with Mrs. Museveni being a minister and first lady at the same time. There are people not happy with Museveni's son being a 'prince' in the army. Obviously, they appear loyal and all those things Museveni wants to see, when in public, but they are damn hurting. By the way,It takes a lot of intellectual capacities to play a dummy in a convincing manner infront of someone you know is a bad leader. Only a really intelligent person can play convincingly a moron, it takes brains to act like a brainless on the scene or in front of the camera.
Having relatives in strategic positions may not save a leader, either. Relatives could actually turn out to be worse than the people outside the family. Just like in running businesses, they tend to suck the life out of a business, and take everything for granted, which ultimately leads to its downfall. Secondly, we have read in history where a brother has killed a brother because he wants to take over leadership, or for some other reasons, which paved a way for a new government. For instance, in 2001, a crown prince strode into a royal family gathering, opened fire, and killed nine people — including his father the King, before shooting himself. The palace is now a tourist attraction. So, please, people shouldnt make assumptions that Mr.Muhoozi Kainerugaba is happy with whatever is happening in the country. Who knows? He may also get a moment and feel like ending it all. These things happen, and have always happened.
Now, the reason the coup in Zimbabwe happened--or at least the explanation we've decided to accept--is that there was friction between Mugabe's wife, Grace Mugabe, and the ZANU-PF historicals.Joice Mujuru, the first female VP, lost her job in 2014 because of the first lady. The same happened to Emmerson Mnangagwa, fellow Chelsea FC fan. You've got to ask yourself, how many people have been dismissed or appointed in office due to the influence of Janet Museveni.
Mugabe is still highly respected by the ZANU-PF historicals because of his role towards Zimbabwe's independence, and he has literally given them wealth and freedom to do whatever they want.The story of his life and career has been shoehorned into the Zimbabwe education curriculum at a fundamental level.Zimbabwean army chief General Constantino Chiwenga owes all his life to Mugabe, and he has protected him several times over corruption accusations. The war veterans had the biggest share of farms formerly belonging to white farmers. I wouldnt say the same for Museveni as he has rattled off several NRM historicals. They may not be in government anymore but still somehow yield influence especially public perception of their leader.
Museveni's political life and fortunes are now prominet because he wanted it that way. When a leader has been in power that long, tangential politicians in any field fade from the collective radar, until only one person remains; the significance of that individual is then exaggerated, until the day they unexpectedly lose power.
But envisioning how any long time dictator will lose power is harder for several people, but it happens and will happen in Uganda.There is a justice-driven part of my brain that believes--or needs to believe--that as long as a leader is bad, its just only a matter of time before somebody does something about it.The fact that Museveni has not yet lost power doesnt mean that it will not happen.
Shall I spell it out for you? If you decide to give opportunities to your tribemates, son, wife, brother or daughter to serve in the government, you had better make damn sure that you are equally offering the same opportunities to almost all Ugandans. Otherwise, you're always in trouble, and trouble will certainly find you whether you like it or not.
Museveni isn't young anymore, he is only younger than Mugabe and a few leaders around the world.Classifying him as "still young and alert" at 73 years old tends to reflect more on the source than the subject. The fact is that human beings naturally hate doing the same things day in, day out. Politics is like a marriage. It needs new romance and new things every now and then, to keep it appealing. Museveni has been in power for so long, lots of damage has been done, and a lot of people have had their heads turned against him, and want change.
"In tribute to the United Kingdom and the Republic of Uganda, two bastions of strength in a world filled with strife, discrimination and terrorism."