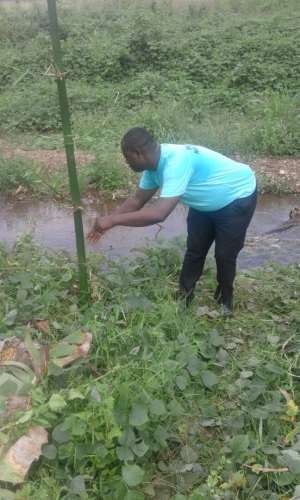 Partners of Nature Africa (PONA), a Non- Governmental Organization (NGO) in afforestation, rejuvenation and reclamation of degraded lands, has successfully rejuvenated a degraded land at Akyem Dokyi near Akyem Techiman in in the Kwaebibirem District of the Eastern Region.
Under the sponsorship of Trust Minerals Ventures and in partnership with Fredko Consult Ltd, PONA planted rattan, bamboo and rubber seedlings on the land abandoned by a mining company, Elite Mining Ltd some years ago.
According to Mr. Forster Amofah, Operations Director of Partners of Nature Africa, the exercise was a pilot project to kick start the organization's rejuvenation project in that part of the Eastern Region.
Mr. Amofah disclosed that, " We chose these species in view of the marshy nature of the abandoned land and also due to the economic benefits. It is located at the Adensu River so we decided to take advantage of the water in the land".
He explained that, "Rubber matures faster and begins yielding economic benefits earlier than the forest species thus the decision to choose it over other trees".
He urged government to quickly shift focus to rejuvenation to salvage what has already been destroyed by Galamsey activities.
For his part, Mr. Stephen Acheampong, Managing Director of Trust Minerals Ventures, said their support for the rejuvenation exercise is part of their social responsibility activities aimed at restoring the ecology of the area.
"It is a responsibility we all must undertake especially for some of us who are in the mining business. We all need to restore what has been destroyed whether we were directly involved or not," Mr. Acheampong emphasized.
Partners of Nature Africa has already undertaken similar projects at Akyease and Peminase in the Ejisu Juaben District and Asiwa in the Bosome Freho District.
Similar projects are underway in some parts of the country.