Kofi Adda Clears Misconception Insisting 'Sanitation Brigade Not 'Jobs For The Boys'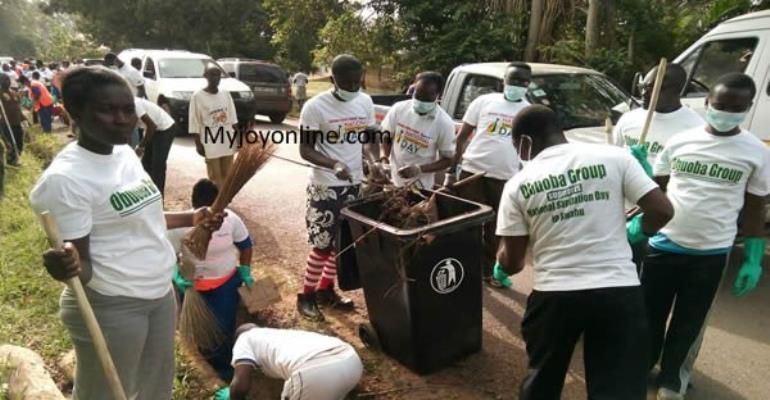 Water Resources and Sanitation Minister, Joseph Kofi Adda says the Sanitation Brigade being created by the government will not be dominated by loyalists of the governing party - the New Patriotic Party (NPP).
President Akufo-Addo on Monday launched the National Sanitation Campaign in Accra where he also announced the formation of the National Sanitation Brigade which is a re-branding of the feared town council in the 1980s.
It is expected that 10,000 Ghanaians will be recruited to enforce the sanitation laws as well as arrest and prosecute persons who flout the environmental regulations.
President Akufo-Addo interacting with an exhibitor after launching the National Sanitation Brigade
Critics of the government suspect the creation of the Brigade is to appease angry jobless party loyalist who recently went on the rampage in some parts of the country demanding jobs after helping the New Patriotic Party (NPP) to recapture political power.
Speaking on the Super Morning Show, however, the Sanitation Minister said any Ghanaian who meets the requirements to be advertised by managers of the Brigade, would be recruited irrespective of their political affiliation.
Joseph Kofi Adda
"Once you qualify by whatever standards that are being preferred by the selection officers, I think they should all apply and be placed on the list and be given the opportunity…," Mr. Adda told the host of the Show, Kojo Yankson Friday.
The NPP government, he noted, will not discriminate when it comes to job opportunities citing recruitments made into the National Youth Employment Programme during the administration of former president John Agyekum Kufuor.
"We crafted the National Youth Employment Programme (NYEP) we were being accused that it was going to be for NPP personnel but we didn't end up having only NPP personnel; NDC people were also recruited during the Kufuor administration and they were working and collecting salaries," he stated.
According to him, the opportunity will be available to "anybody who is eligible."
Story by Ghana | Myjoyonline.com | Jerry Tsatro Mordy | Email: [email protected], Twitter: @jerrymordy