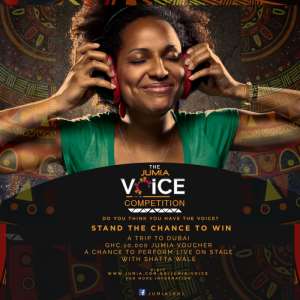 Jumia Ghana has extended ongoing Jumia Voice Competition slated for October 27th to November 22nd to November 30th, 2017. This is to allow full participation from all category of genres.
By popular demand, Jumia Ghana is granting the request of the many voices to open the competition to all category of talents that can equally match up to this online battle and showcased their God given talents.
The winner of this amazing competition still stands the chance of getting GHS 10,000 voucher, a trip to Dubai and an opportunity to perform on stage with artiste of choice.
Jumia Ghana has designed this competition for all individuals with talents who would like to challenge themselves in a very competitive environment. It seeks to empower Africa's talents to reach the greatest height.
To be part of this competition, Jumia says be it rap, singing or spoken word, record your own rendition of a Jumia song using the Jumia jingle downloadable from jumia.com.gh/jumia-voice/ . Post your recording with hashtag #Jumiavoice on Facebook + Instagram + Twitter and tag Jumia Ghana.
Share post with as many friends and associates and invite them to like it and share it. The person with the most likes will be selected and rewarded. For more information, visit Jumia's Facebook + Instagram + Twitter pages. Better still, visit jumia.com.gh/jumia-voice/ to follow competition progress.
Jumia is bent on making someone's dreams come true just as Black Friday promises to delivered the biggest discount ever, starting November 24th. Don't miss this existing opportunity to build confidence and get exposure through The Jumia Voice competition.
STEP TO STEP PROCESS
Download the Jumia jingle instrumentals from jumia.com.gh/jumia-voice/
Record a video of yourself singing with the jingle instrumentals
Share the video with as many people as possible on your social media pages
The person with the most Likes, Views and Re-shares will win the ultimate prize