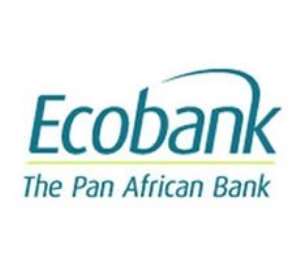 Ecobank Ghana has been adjudged the Best Bank in the financial service sector (Banking) at the 6th Association of Ghana Industries (AGI) awards.
This would be the fourth prestigious banking award Ecobank has won this year alone.
Ecobank had earlier this year swept some top local and international awards, including CIMG Bank of the Year, CIG Best Bank of the Year and Euromoney Best Bank of the year.
A statement from Ecobank said, "This feat is unparalleled, as no single bank has annexed all these key awards in a single year. This also makes Ecobank the most decorated and most successful banking institution in Ghana."
It attributed the achievements to its stellar performances over the years, particularly, in the 2016 financial year.
Ecobank closed the year 2016 with owners' equity of over GH¢964 million, total assets of GHS8,056.87 million, profit before tax of GHS 462.6 million, with 15.29% capital adequacy ratio.
The bank boasts of having made good returns, over the years, to its shareholders with a return on average equity (ROAE) and returns on average assets (ROAA) averaging above 35% and 4% respectively over the past 5 years. The bank's ROAE was 35.4% and ROAA was 4.4% for 2016.
On the back of the award Ecobank pledged to reciprocate the love and kindness of society and the environment, by conducting its business ethically, whiles making substantial annual contributions towards helping to uplift the less privileged, less endowed and deprived people, institutions, communities and the planet, as a way of discharging its corporate social responsibility (CSR).
The bank accordingly increased its CSR disbursements to GHS3,380,000 in 2016, which was 19% higher than the amount spent the previous year. The bank's CSR is focused mainly on education, health, financial inclusion and other socio-cultural events and community development programmes.
"Going forward, the bank intends to continue leveraging its biggest balance sheet size to introduce more convenient, accessible and reliable products and services in line with its mission," it said.
It also promised to intensify its digital agenda drive, which has so far seen the bank release four innovative phone-enabled services, which include; the Ecobank Mobile APP, Scan + Pay QR Code, TBill4All and the Ecobank Xpress Account.
"These products enable customers to do banking on the go, saving them the much needed time to concentrate on their businesses while at the same time decreasing their transactional costs for banking," it added.