Don't Meddle In Rural Bank Operations—Chiefs And Politicians Cautioned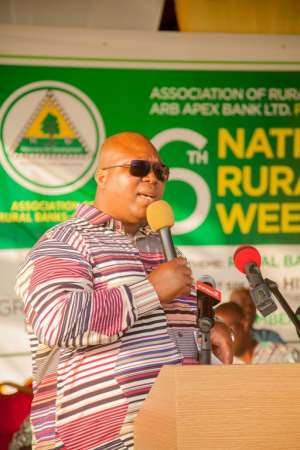 The President of Group Ideal, Hon, Dr. Nii Kotei Dzani has said chiefs and politicians should not be encouraged to meddle in the administrative affairs of Rural and Community banks in the country. According to him such interferences affect the effectiveness and efficiency of operations of the sector and hinders the growth of the rural banking sector.
He made this assertion at the just ended 6th Rural and Community Banking Week celebration under the theme, "Rural banking key to National Development".
According to him when chiefs push for funds it is normally not rejected because they are the custodians of the land. However, recovering the funds become a major challenge. This does not help in meeting customer demands.
Speaking on the theme, Hon Dr. Nii Kotei Dzani noted that ensuring a rural banking system devoid of political and chieftaincy interferences will go a long way to expedite government's rural banking industrialization agenda.
Dr. Kotei Dzani also urged the Bank of Ghana to reconsider the capital requirement and the timelines for meeting the requirement for indigenous commercial banks compared to that of the foreign commercial banks. These foreign banks often times have more financial muscle than the indigenous banks. He stressed, "It is important that we grow our own".
''Rural and Community banks play a pivotal role in the rural industrialization of our country. Government after 40 years may have to reconsider the concept of the rural bank so we provide them with the necessary assistance in order to take off with the government policy of the rural industrialization", Dr. Dzani said.
He further stated that a lot of these commercial banks also operated branches in these rural settings thus giving the rural banks unfair competition. He, therefore, urged that the financial and banking needs of the rural dwellers be made to rest mostly with the rural banks hence his plea for more push of funds into this sector to ensure its expansion and growth.
The banking week celebration is an opportunity for the rural banks in the country to assess their activities and challenges over the period and to deliberate on the way forward and how rural banks should improve upon rendering good services to its clients in the region
Dr. Nii Kotei Dzani was given a special recognition award at the event for his excellence and illustrious service as an Entrepreneur, Philanthropist, and a Statesman.
The Vice President of the Republic of Ghana, Dr. Mahamudu Bawumia, who was the Keynote Guest Speaker of the event, was also awarded at the same event.