Multi-million dollar devt package for Elmina
News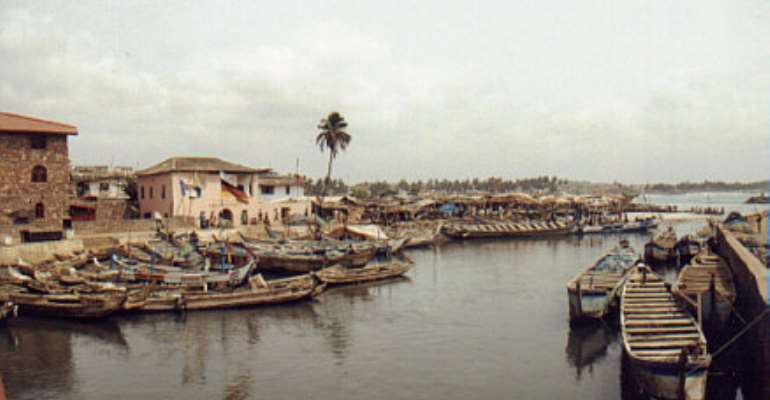 Elmina (C/R), July 9, GNA - The government has earmarked 8.3 million dollars for a three-stage action plan to restore the Benya Lagoon at Elmina in the Central Region.
As an immediate measure the entire lagoon stretch including the entrance will be dredged while the armour rocks embedded at the entrance would be removed to make it possible for fishing canoes to enter, moor and discharge fish.
Vice President Alhaji Aliu Mahama announced this at a durbar of chiefs and of people to climax this year's celebration of the annual Bakatue festival at Elmina.
He said in the medium term the existing break water would be repaired and extended by laying bigger armour rocks to protect the local harbour against storm, including upgrading of the mooring facilities estimated at 6.89 million dollars.
As a long-term measure, a fishing harbour accessible to a new generation of fishing vessels would be constructed. This would go along with improved infrastructure, including sanitation, drainage and sewerage systems at an estimated cost of 82.2 million dollars. Bakatue festival celebrated at the fore court of St George Castle falls on the first Tuesday of July every year.
It is celebrated in honour of the founder of Elmina, Kwa Amankwa, and a hunter, who was said to have migrated from the savannah-based Walata Empire in search of water.
The festival is marked by a state proclamation, firing of musketry, regatta, among other events.
Alhaji Mahama clad in white and black native cloth, told the jeering revellers that as a result of the Elmina 2015 strategy conference in 2003, the Dutch cultural fund had made available 330,00 euros for the rehabilitation of local monuments like the Dutch cemetery and the conversion of Nana Etsiapa House into a community centre. He said the European Union had also committed 1.5 million euros for the rehabilitation of the upper terraces of the Elmina Castle and the upgrading of the surrounding of Fort St Jago.
Alhaji Mahama expressed the need for the custodians of culture and tradition to be innovative to introduce new trends especially in the observance of festivals.
He also tasked them to include environmental protection in community development and prune the size of their families. The Vice President also called for the observance of moral values to stem the spread of HIV/AIDS, drunkenness, communal violence and other social vices.
Nana Kodwo Condua VI, Omanhen of Edina and paramount chief of the Edina Traditional Area, asked the government to facilitate the marketing of salt in the area.
Nana Condua also appealed to the government to give the traditional council a share of the revenue accruing from the forts and castles. Alhaji Mahama presented a fire tender to the Elmina District Office of the Ghana National Fire Service and a 58-seater bus to Edinaman secondary school in response to an appeal made by the chief during last year's celebration. 9 July 05