SSNIT introduces pension scheme for informal sector workers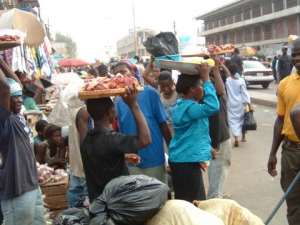 Takoradi, July 9, GNA - The Social Security and National Insurance Trust (SSNIT) has introduced a pension package known as the Informal Sector Social Security Scheme (ISSSS) for informal sector workers in Ghana and abroad. Under the package, people working in the informal sector must contribute to the trust for 60 months to qualify. Mr George Blege, Takoradi Branch Manager of SSNIT disclosed this to the Ghana News Agency (GNA) in an interview on Friday. He said members could contribute on a daily, weekly, bi-weekly, monthly, annually or seasonally, depending on ones business. Mr Blege said each informal sector contributor would have two accounts namely the Retirement and Occupational Safety Accounts (O.S.A.). He stressed that members could accessed the O.S.A. to enhance their businesses, withdraw part of the savings, settle their wards school fees or meet any urgent expenses.
Mr Blege said Informal Sector offices have been opened at the Takoradi, Koforidua, Kumasi and Accra SSNIT offices to meet the needs of their new clients, while the trust has trained collectors to collect member's contributions. Members could also pay through their local unions, which would be transferred to the trust. He explained that other offices would soon be opened in all SSNIT offices nationwide.
Mr Blege said the SSNIT was working in collaboration with various transport organisations, unions, associations, and other identifiable groups within the informal sector.
Mr Kofi Polley, Officer in charge of the Takoradi ISSSS said the trust had registered 406 people within a month of its introduction. He said each ISSSS member would be given a passbook in which all the necessary transactions would be entered to ensure easy computation of benefits and retirement packages.
Mr Polley said informal sector workers are usually under stress due to the lack of funds and their inability to save for the future. He hoped that members would patronise the scheme, cultivate the habit of regular savings and thereby relieve themselves from the pressures of business.