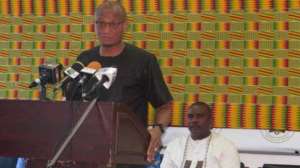 Mr Mustapha Hamid, Minister of Information, has advocated the establishment of Quality Assurance Units in all Ministries, Departments and Agencies (MDAs) to improve profitability and drive change for the nation's socioeconomic development.
He said the foundation of development was quality; stating that in every single segment of society, when one could assure himself of quality, then society would develop.
Mr Mustapha Hamid made these remarks on Friday in Accra during the celebration of World Quality Day 2017 on the theme 'Pursuing Quality through Integrity'.
The event was organised by the Association of Certified Quality Assurance (ACQA), to increase awareness of the important contribution that quality makes towards both organisational and national growth, and prosperity.
Each year, World Quality Day 2017, is marked on the second Thursday of November to give opportunity to celebrate quality achievements, and recognise those that demonstrated the leadership to sustain and improve performance every day of the year.
Mr Mustapha Hamid recounted that the Ghana Standards Authority and the Foods and Drugs Authority, recently cautioned the nation against buying palm oil because some unscrupulous market women were mixing a chemical called Sudan III with it to give it a more reddish colour, and that this dye actually kills.
He said recently there was another alert about koobi (dried tilapia), that some market women were treating koobi with formalin (a chemical used to embalm dead bodies), which was also dangerous to human health.
He cited that there was also another alert that some market women were also mixing powered powdered kola nuts with pepper to give it quantity, while they could sell more pepper however, the quantity of pepper was small.
The Minister noted that at the heart of life expectancy was the issue of quality, he further urged quality assurers to exercise the highest standards in the performance of their duties.
He said quality assurance in our society had a link to good governance.
Mr Nathaniel Gearing K. Parker, the President, ACQA, said the world quality day, was a day for individuals and heads of institutions to do environmental scan about their various organizations for excellence; questioning that 'How can we achieve quality as a hallmark in our Organizations?'
'We need commitment in our work and for mother Ghana. Productivity and meeting targets is always ultimate for every organization. In the cause of meeting targets, if there is no commitment, other vices may set in.
'Let us audit every performance with excellence in mind. We must do continuous improvement over and over again and again until we get it right. Monitoring and Evaluation is very imperative, so is Quality Assurance,' he said.
He said: 'Remember we always have to check the checkers processes, and advice the way forward for the checker. All of us should try to follow the processes we have laid down in our organizations; at least we want to do the right thing.
'Doing it right is gratifying, and I believe if all the manufacturers, exporters, importers, road contractors and administrators in our various organizations in Ghana will one day celebrate 'doing it right' as homecoming,' he said.
He urged all and sundry to work on their defects; declaring that 'for our organizations deserves better and Ghana our Motherland deserves the best'.
Mr Mike Assuah of Quality Control Company (QCC), a subsidiary Company of Cocobod, and a Fellow of ACQA, who chaired the function, said the processes, the structures and the procedures for ensuring the quality of a product or a service might be influenced by eternal factors that might test the moral and ethical behaviour of employees.
'And as far as employees are concerned and are involved in the production line, a high integrity is required of them for any organisation to be able to fashion out in quality product of service to satisfy its customers,' he stated.
Mr Gilbert Gawu, the Director, Human Resources, QCC, Cocobod and ACQA Fellow, in his presentation said 'Quality Assurance is a process focused concept, where the processes are put in place to ensure the correct steps are taken in a correct way.
'If the correct processes are in place, there is some assurance that the actual results will turn out as expected,' he added.
GNA
By Iddi Yire/Kwamina Tandoh, GNA