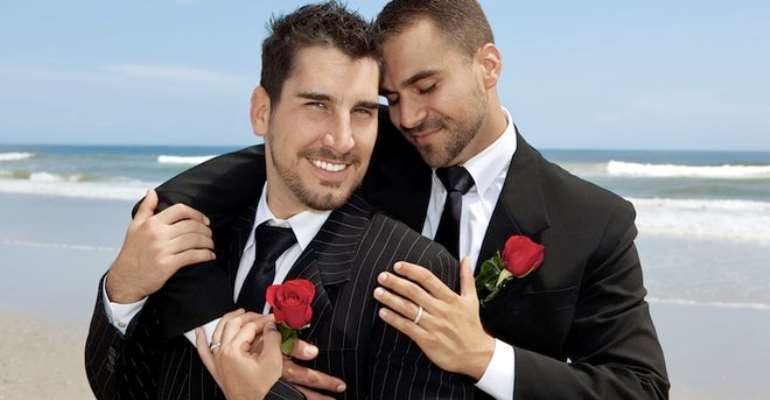 First published June 30,2015
It does look as if the west is bent on making gay marriage an acceptable way of life than some tendency of a minority.
And since the United States Supreme Court's ruling in 2015 that all US states should pass legislation recognizing gay relationships, this perversion has spread like wildfire even unto our shores.
And now I am curious to know the reaction of those of us who feel enlightened and who think the way of life of the west is the yardstick we must all measure up to.
If you are not following the western way of life, they would call you archaic and primitive.
We were here when some whites came to our shores with a message of Christ which they had packaged in their culture.
And so even though God's chosen ones in the bible : Abraham, David and even Solomon were all polygamous, they told us polygamy is a heathen practice; and if we wanted to accept Christ we must hate the practice of taking more than one wife. We painfully accepted the new change so we would be with Christ in heaven one day .
The consequences are with us now. Our women would flock to churches to find non -existing husbands.
The man of today is either lazy or he is in pursuit of a fanciful life for only himself. He would not work to settle down quickly as society expects of him.
Some are engaged in the most perverse form of relationship.
And if we were not to have abandoned our own ways; men who have worked so hard to have more for themselves and have earned our respect would have been encouraged to take more wives. This would have solved a part of the social consequences of having our young women of marriageable age still in their father's homes.
But we say our eyes are opened ;and so we dont want to hear about polygamy.
These single women who do not want to hear about polygamy would flock the churches for miracles to get their own husbands. I'm sorry, the pastors cant help you because many of these men available have lost their manhood to the dictates of modernity. 'They are busy loving themselves'
So if the word polygamy is an abominable word for you as a female ; and you cant find your own husband, then you now have a choice to be in a same sex relationship with a same sex partner who suffers same lack as you.
If You don't want to share a phallus with your fellow woman; then go to a sex toy shop and choose for yourself that which would fit the place perfectly .
Either get your female partner or you can treat yourself with the pleasure of 'screwing' there by yourself.
You will enjoy it.
PAUL ZOWONU
TUTOR- ACCRA
#TALKINGBLUES
editted : 9/11/17:15:43