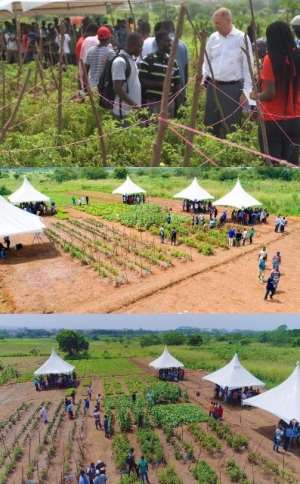 Mr Ron Strikker, the Netherlands Ambassador to Ghana, has commended the GhanaVeg Programme for the efforts made that led to the lifting of the European Union ban on the export of the commodity to the EU market.
He said it has been the combined efforts of the Plant Protection and Regulatory Service Department (PPRSD) and coordinated support from several development partners.
Mr Strikker was speaking at the GhanaVeg Programme Agronomy Field Day and exhibit in Accra, where farmers were educated on how to apply specific types of fertilizers on certain crops on their farmers.
The EU in a release said exporters could resume export of all plant commodities to the European Union (EU) market from January 1st, 2018, following the European Commission's decision on October 31, to lift the current ban on commodities from Ghana.
The five identified plants are chilli pepper, bottle gourds, luffa gourds, bitter gourds and eggplants.
He called on stakeholders to continue to support farmers in promoting good hygienic conditions to enable more produces enter the EU market.
'It is good news for farmers with the lifting of the ban,' he said.
Mrs Sheila Assibey-Yeboah, Deputy Programme Leader of GhanaVeg, told the Ghana News Agency that the lifting of the ban was good news for stakeholders in the vegetable value chain.
'We are grateful to all, who coordinated efforts to support farmers in doing the right thing for the ban to be lifted,' she said.
She said the challenge ahead was even greater and a lot of work needed to be done to maintain the standards.
Mrs Assibey-Yeboah said the EU were constantly changing the directives of doing things and farmers, exporters and stakeholders needed to be abreast with some of the changes.
She commended the Netherlands government for the support of their flagship programme; GhanaVeg programme.
She said efforts at educating farmers on proper hygienic environment on their farms have really gone down well with them.
'Farmers should endeavour to spend a little bit more in doing the right and adhere to quality standards,' she said.
GNA
By Morkporkpor Anku, GNA