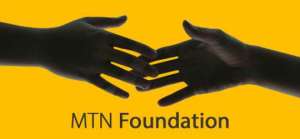 The MTN Ghana Foundation has supported the Assistive Technology Unit of the University of Ghana with modern equipment to create opportunity for students with special needs.
The donation, worth GH¢ 217,000, would help promote the independence of the over 2,000 students with special needs and also address their quest for special assistance in pursuing their studies.
The donation include: a Prodigy Desktop, a Sara Scanner, a projector, projector screen, three handheld Magnifiers, SMA for Jaws, three external hard drives, a Braille printer, five laptops, a LaserJet printer and 15 computers.
Mr Samuel Koranteng, the Acting Corporate Services Executive, MTN, said education was one of the critical areas of Ghana's socio-economic development agenda and that the MTN Ghana Foundation had over the years invested in projects aimed at promoting the sector.
He said the Foundation had implemented over 80 educational projects across the country, which includes the construction of school blocks, renovating and furnishing school blocks, libraries with free Internet connectivity as well as initiating teacher empowerment programmes to enhance education.
Mr Koranteng said the event was very special to the MTN Ghana Foundation, as it would help the students with special educational needs to reach their full potentials in school as they mark their 10th anniversary.
He said the Foundation since its inception, had been instrumental in national development by supporting and initiating projects in communities across Ghana and had therefore chosen the theme 'Celebrating Ten Years of Brightening Lives, Inspiring a Brighter Future,' for the anniversary.
'In a space of 10 years, the Foundation has implemented over 142 projects in the areas of health, education and economic empowerment at the total cost of over $13.3 million.
The Foundation believes that it is the right of every Ghanaian to have access to education and we are happy to be giving more Ghanaians the chance to a better education,' he added.
Mr Koranteng expressed gratitude to the Assistive Unit and the university's authorities for their cooperation.
Mr Emmanuel Baidoo, who read a speech on behalf of the Registrar, University of Ghana, congratulated the MTN Foundation for the good work done, adding that 'the institution would continue to provide equal opportunities to all students and workers for the promotion of effective teaching, learning and research.'
He said the significance of ICT in the life of any individual with disability in today's world cannot be over emphasized as it had come to serve as a major gap-bridging tool between persons with disability and able persons.
He appealed to the corporate world to support the unit and the office of students with special needs.
Mr Fareed Gombilla, a visually impaired Level 400 Political Science Student, also expressed gratitude to MTN for the support, which would enhance their education.
He appealed for more assistive devises to enable them to meet global standards, as well as making available some of these tools at the work places to enhance their output.
GNA
By Samira Larbie, GNA