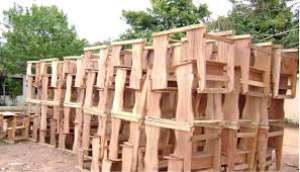 Mr Daniel Yeboah, Headteacher of Wurakese M/A school in the Assin North Municipality of the Central Region has appealed to government and corporate entities to support the school with 70 chairs and tables to enhance teaching and learning.
The Head teacher who made the appeal in an interview with the Ghana News Agency at Assin Wurakese said it was important that all communities came together to financially support schools in their localities to help achieve academic excellence.
Currently, the 235 student population sits in threes and fours per one dual desk, a situation, the headteacher indicated had affected the quality of handwriting of pupils and created lots of discomfort during classes.
The terrible situation in the school, according to him, had affected teachers' morale and impacted negatively on enrollment and retention, as many of the children could not write well due to lack of space.
Many parents, who could not cope with the conditions of the only school in the area, have had their children moved out of the school.
Mr Yeboah disclosed that the school lacked a library and an Information and Communication Technology (ICT) laboratory among other basic infrastructural facilities for conducive academic work, especially at the Junior High School (JHS) level.
'The whole school can boast of only one computer, making the study of ICT, an examinable subject pretty difficult especially at the lower level. Students have to move in batches to study the subject," he said.
He said the school which was established in 1953 with the help of the community had not received any major rehabilitation works, making the building weak and dangerous to accommodate students.
A tour by the GNA on the school's premises saw the poor and dilapidated structures had developed cracks and other structural defects as doors and windows hanged loosely with some completely broken.
The head teacher said the students always had to vacate the classrooms anytime it rained as the rusted roofing sheets could not protect them against the weather.
He said the school also lacked toilet and reliable water supply and had therefore called on government and other corporate organisations to come to the aid of the school.