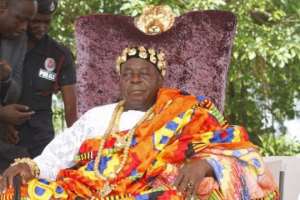 Togbe Sri III, the Awomefia of Anlo, has called on President Nana Addo Dankwa Akufo-Addo to make real the promises by successive governments to develop the Anlo state.
He said the lack of development was a "plaque" to the people and that though the Anlo areas had a lot to gain from the Keta Lagoon Basin, they were at the mercy of exploiters.
Togbe Sri said this at a durbar to climax this year's Hogbetsotso festival in Keta, on the theme, "Rebranding our Historical and Tourist sites for development".
The Awomefia noted that the five districts in the Traditional Area- Keta, Akatsi North, Akatsi South, Ketu North and Ketu South have 'huge " infrastructural deficits, needing urgent attention to open up the area for rapid socioeconomic growth.
He alleged that the Minerals Commission was sidelining the Anlo Traditional Council in allocating sections of the Keta Lagoon to investors and called for government's intervention for Anlo to benefit from the resources.
Togbe Sri also appealed to government to dredge the Lagoon to improve aqua culture, create jobs for the youth, and promote river transport and tourism in the area.
The Awomefia also reminded government of promises to build a port at Keta, and the exploration of oil along the south-eastern coast of the country.
He said the need for a robust sea defence system could not be more eminent, citing the recent tidal waves in the area, which displaced hundreds and destroyed many properties.
Togbe Sri said potable water and road were major challenges for most communities in the traditional area and prayed that they were fixed.
Dr Archibald Yao Letsa, the Volta Regional Minister, said globalisation 'served up' challenges for the youth, and assured that government's policies would have them covered.
He said the Volta Regional Coordinating Council would work with the Tourism Ministry on a development plan for tourism in the area.