NPP to test popularity at Odododiodio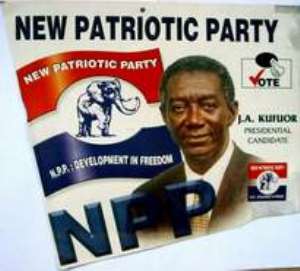 The New Patriotic Party's popularity will soon be put to test following the sudden death of the NDC Member of Parliament for Odododiodio Constituency, Nii Ayikwei Manckarta.
He died on Monday night at the age of 54.
Though the NPP was tagged for the past four years as by-election 'champions' following the party's ability to win all the by-elections during the first four years of the party in office, the recent defeat at Asawase in Kumasi was a wake up call for the party.
Unlike the previous by-elections where the resent 50 per cent increase in fuel prices had not been affected, the recent increase coupled with the demonstrations by the CJA by no means played a major role in the defeat of the NPP at the Asawase.
This time round the NDC is expected to use the controversial "Hotel Kufuor" saga and alleged corruption in government as key campaign tools.
The Odododiodio Constituency is known to be one of the controversial constituencies in Accra with no Member of Parliament going beyond the four years mandate.
The constituency also harbours the famous Mantse Agbonaa where major political campaigns are held either to launch or climax political campaigns.
In 1992, during the first election that ushered in the fourth Republic, the seat was won by the NDC as NPP boycotted the polls.
However during the 1996 general elections the people refused to allow the then sitting MP to go for a second term and rather gave the mandate to Nii Okaija Adamafio who later became the Minister of the Interior.
The baton changed hands again during the 2000 elections when the NPP, led by Nii Bi Ayibontey, won but was booted out by the late MP.
A deputy general secretary of the NDC says the party is still holding its weekly meetings on Tuesday evening and the issue of the ex-MP would be discussed.
He said a quick organization for primaries would be conducted soon.