Kumasi Airport to be rehabilitated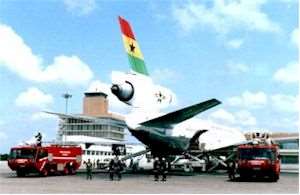 Kumasi, July 6, GNA - The government has secured a 3.5 million dollar funding towards rehabilitation of the Kumasi International Airport in line with its vision of transforming the country into an aviation hub. Major works to be undertaken include improvement of the runway, shoulders, pavement markings, lighting system and drainage. Nii Adumasa Baddoo, Acting Director-General of the Ghana Civil Aviation Authority (GCAA), announced this at a press conference in Kumasi on Wednesday. He said when completed, the Airport would re-start night flight operations that had been suspended for security and safety reasons. The rehabilitation is scheduled to begin next month and would take six months to complete.
Nii Baddoo said for Ghana to achieve the status of an aviation hub, it was important to ensure more vibrant domestic air transportation and therefore the need to take a critical look at the regional airports. He noted that the Kumasi Airport was strategically located and if upgraded, carriers could operate their flights from there as a base and distribute to the sub-region.
It offers a lot of opportunities and would be transformed into a first class facility to support the Kotoka International Airport, he said, adding, "This is necessary to help the country to stay ahead of the stiff competition in the air transport industry".
The acting Director-General also announced plans to build a second International Airport in Kumasi.
He said through the support of Otumfuo Osei Tutu II, Asantehene, the GCAA had already acquired a large tract of land along the Kumasi-Mampong road for the project.
The GCAA is presently carrying out master plan studies and when completed the next phase would start.
Mrs Patricia Appiagyei, Deputy Ashanti Regional Minister, said the rehabilitation of the Airport was dear to the heart of the government as the non-availability of night flights was causing much inconvenience to travellers.
She stated that the Kufuor administration was well focussed and had a national development agenda under which no part of the country would be denied its fair share of development.
Conditions at the Kumasi Airport constructed in the 1960's and upgraded into International status in April last year, are presently not the best as there are cracks and potholes on the runway. Besides, there is no proper drainage on the runway, aprons and shoulders were also not provided while airfield lighting is non-existent.