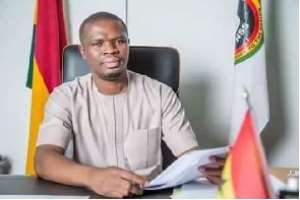 Acting Director of the National Service Scheme, Mustapha Ussif
Mr. Bright Botchway, General Secretary of NDC vibrant youth wing Young Cadres Association, (YCA) and former NASPA President, Awutu Senya East/West has taken a slap on the National Service Secretariat on its compulsory NSS Insurance Policy.
Mr. Bright Botched who held the portfolio, Chairman for Regional Welfare Committee – NASPA Central Region 2016/17, has threatened to take NSS to court for what he described as a daylight fraudulent act.
The National Service Secretariat (NSS), the Ghana Government agency mandated to formulate policies and structures for national service recently came out with an Insurance Policy for service personnel without due diligence.
The National Service Scheme in partnership with MTN and Glico Life Insurance, earlier this week launched a life insurance cover for the over 90,000 personnel. The 12-month package covers death, injury, medicals among other serious implications that may affect their wellbeing during the year of service.
Commenting on the compulsory Insurance Packages imposed on National Service Personnel, he said although the insurance policy will help address most challenges and difficulties service personnel go through during the 1-year service to the nation, it is characterized by what he termed as gross leniency error.
He said, "currently, some genuinely registered service personnel are undertaking their mandatory service to the country on an empty stomach due to NSS press release last week, that about 8,000 service personnel across the country allowances are put on hold because the Secretariat felt there was the need to do more auditing and investigations before they go ahead with their payment".
Mr. Bright Botchway described this action as a purely administrative bottlenecks which is expected to be the headache of the Government.
He continued, "but to our surprise is the launch of a Life insurance policy forgetting about NHIS and the fact that some of us are already registered contributors with this same insurance companies and can't do dual registrations to be deducted unnecessarily. Why won't we believe a strong cartel is hiding behind this wanting to jump on the allowances for their parochial interest. The irregularities are just uncountable."
He stated that for effectiveness and peaceful implementation, the Government should go back to the drawing board and build a unified, broader and stronger approach of implementing the Insurance policy with the soon to be elected NASPA EXECUTIVES across board, state clear cut conditionalities of the purported life insurance policy, educate personnel about the policy and finally make room for those interested to apply and those who don't want to be enrolled left alone.
"We as a nation cannot be making jokes out of every serious social problem and the flaws it generates", he concluded.
Source: Daniel Kaku