South Sudan's capital Juba was tense on Saturday as dozens of soldiers surrounded the residence of powerful former army chief Paul Malong in a bid to disarm his bodyguards.
Streets across the city were largely empty as people stayed at home for fear the standoff would erupt into clashes, an AFP correspondent said.
The deployment was confirmed by presidential spokesman Ateny Wek Ateny who said it was a "routine operation" which should not cause any concern.
"The situation is normal... this is not anything to worry about," he told AFP. It was also confirmed by Information Minister Michael Makuei.
The move came five days after President Salva Kiir signed an order, a copy of which was obtained by AFP, authorising the arrest and disarming of Malong's bodyguards, which also said any resistance "must be met with reasonable force".
There was no indication as to why Kiir had given the order.
Malong, a general who was sacked by Kiir in May, is a hardline ethnic nationalist who belongs to the president's majority Dinka tribe.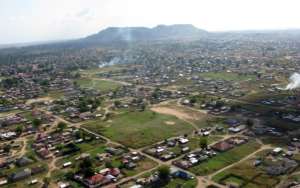 South Sudan has been gripped by a brutal civil that has lasted nearly four years, with Saturday's standoff emptying the streets of Juba, the capital
He is widely regarded as being the mastermind of fighting that erupted in Juba in July 2016 that left hundreds of people dead and crushed hopes of a power-sharing government between Kiir and Riek Machar, his former deputy turned rebel chief, who is a member of the Nuer tribe.
The Dinka and the Nuer are the two largest ethnic groups in South Sudan and have a history of bloody rivalry.
South Sudan has been gripped by a brutal civil war that has lasted nearly four years, and the standoff in Juba prompted many residents to stay home for fear of violence.
"I have not got out of my house since morning because... fighting may break out," said Moses Alier, a resident of Hai Mouna in western Juba told AFP by phone.
Malong's dismissal in May had sparked fears among residents that it could trigger clashes between his supporters and troops loyal to the president.
The general is currently under house arrest, with the October 30 presidential order stating that he should not be allowed to leave his residence "at any time".
South Sudan gained independence after the Christian majority south split from the Muslim north in 2011 after a 22-year civil war that killed hundreds of thousands of people.
But the world's youngest nation quickly fell into civil war in December 2013 after Kiir accused Machar of plotting a coup, with the conflict leaving tens of thousands dead and forcing a third of its 12 million people out of their homes.