A-G Dept saves detained Guinea Bissau national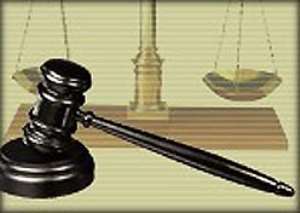 The timely intervention of the Attorney-General's Department, led to the release of a Guinea Bissau national on June 21, 2005, after he was arrested by the police a day earlier on charges of money laundering, for possessing an amount of US$12,000.
Abdulai Ladjo Mane, had on February 14, 2005, taken legal action against the Director of the Narcotics Control Board (NCB) and the Attorney-General to retrieve his money and a Nokia phone which was taken from him by the officers of the Narcotics Control Board on his dis-embarkment at the Kotoka International Airport from the Republic of South Africa enroute to Bamako, Mali.
However, the Guinea Bissau national was re-arrested, while the case was on-going at an Accra High court.
Abdulai had got an interlocutory judgment against the defendants in default of appearance where the court ordered that the US$12,000 and a Nokia 7250i mobile phone be returned to the plaintiff but this was set aside following a motion filed by the Attorney General's department, appearing for the defendants, to set aside the judgment.
After the court set its judgment aside, the defendants filed a statement of defence and further applied that hearing be heard and disposed off in chambers in view of the security implications it had for the country.
The plaintiff, apart from seeking an order of the court to compel the NCB to release his money, is further seeking damages for unlawful arrest and detention.
In his statement of claim, Abdulai indicated that during his dis-embarkment at the Kotoka International Airport enroute to Bamako from South Africa, on January 12, 2005, officials of the NCB at the airport arrested him, on suspicion that he was a Nigerian and therefore in possession of Narcotics.
According to him, his luggage was thoroughly searched and he was further made to under-go an X-ray examination, which revealed nothing on him except an amount of US$12,000 and a Nokia 7250i mobile phone, which were taken away from him.
Abdulai noted that despite all protestation that he was not having narcotics; the officials of the NCB handcuffed him and kept him in police custody for 10 days, after which he was released on bail without the money and mobile phone retrieved from him during his arrest being returned to him.