TEIN-Ashanti Regional Chapter On The Unfortunate Statement Made By Mr. George Ayisi Boateng At Kumasi Technical University On Sunday 29th October 2017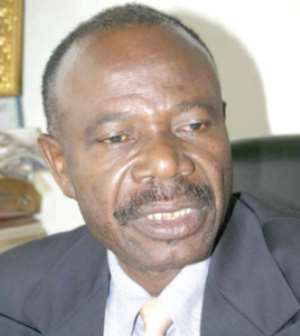 Personnel from the media, all protocol observed, ladies and gentlemen Good afternoon. It is with a great pleasure that we welcome you all to this noble gathering where we seek to express our displeasure at the unfortunate comment of Ghana's High Commissioner to South Africa during a program held at Kumasi Technical University.
Over the years, the very elements that have contributed to the development of our dear nation thus far are Unity and peaceful coexistence which emanated from the fairness of the existing systems. Many are the things that have happened since the commencement of the Nana Addo led administration that have sought to shred off this elements and is a signal of deceit to Ghanaians by the NPP.
The illusion that infrastructure wouldn't put food on the table of the average Ghanaian have been seen to be a deceit by the NPP as these same developments are not even sufficient to support their politically motivated promise such as the Free SHS thus having our brothers and sisters learning and eating under trees and sleeping in classrooms and in some cases open spaces all in the name of free SHS.
Having promised Ghanaians that; "the NPP Government will secure peace and security for us, they were voted into power only to present us with the reality where even their own public officials are facing attacks from Delta forces, Invisible forces and all sort of other 'vigilante' groups of their own party. This makes them unable to discharge their duties effectively and efficiently. This is clear deceit to Ghanaians and an exhibition of gross logical impotence and incapability.
Now to the substantive issue of focus today i.e. the unfortunate comment of the Ghana's High Commissioner to South Africa at Kumasi Technical University. We will want to begin by saying that; with gross maltreatment of Ghanaians by various foreign High commissions based in the country, one would have expected that a man of his caliber would be investing his energy together with the foreign affairs sub-committee of Parliament to probe into these cases of maltreatment and to provide for Ghanaians a remedy to this menace and having the opportunity to address energetic youth, he instead could have capitalize on that to share some light on how government intend to cause some high commissioners in the country to treat Ghanaians especially the youth with respect.
Instead Mr. George Ayisi Boateng has chosen to still be in the mood of political campaign. It is normal to honour an invitation of any association whatsoever regardless of your position in government. However, your actions and inactions wherever you go should depict your commitment to the service of the nation. It was rather unfortunate to have heard the comments made by Mr. George Ayisi Boateng when he was given the opportunity to address members of the Tertiary Educational Institutions Network of the NPP. His unfortunate comments were; "The job market is choked and it is highly competitive and this government is doing its best to create job opportunities, me for instance, I told my people that it is NPP that is why I am in power so NPP man is my priority".
One would have thought that perhaps he was moved by the euphoria to make such comments. But Speaking to Abusua FM in Kumasi, he said;"I said nothing bad, I stand by my words, what is wrong with my statement? I have helped many NDC members including E.T Mensah, I am not divisive, E.T Mensah can attest to it."This means that he shows no sign of remorse and further asking Ghanaians to either take it or leave it. Indeed we can take it or leave it and we have chosen to take it. We have come to a point in our lives as Ghanaians where we are told that there are some people who are much more Ghanaian than others. As such there should be preferential treatment to some Ghanaians who are more important than others.
We have taken the pain as intellectuals to research from all angles on who qualifies to be a more Ghanaian. But after exhausting our avenues, we found out that the number one gentleman of the state does not even qualify to be a more Ghanaian but rather a Ghanaian. Which means that all Ghanaians are equal. It is in this regard that the 1992 constitution in Article 12 clause 2 states that " Every person in Ghana, whatever his race, place of origin, political opinion, colour, religion, creed or gender shall be entitled to the fundamental human rights and freedoms of the individual contained in this Chapter but subject to respect for the rights and freedoms of others and for the public interest." Public interest here represents the good of the entire Ghanaian citizenry and not some memebrs and sympathizers of a governing party.
It is inevitable that these party sympathizers campaigned to help you regain power. However, there are more and more other floating voters who perhaps you successfully deceived to offer you their vote. Is this the best way to serve such people? In the wisdom of our law makers, it was prudent to bring in such a clause as enshrined in Article 12 (2) so that people who do not believe in a government's ideology are still granted their rights and privileges due them. This is why we see no reason why a government official will make such pronouncements to give preferential treatment to some people who are more Ghanaian. This is a gross act of discrimination which is a violation of Article 17 of the 1992 constitution. This is in clear contradiction with the "CHANGE" Agenda which sought to create prosperity and equal opportunity for all.
The president during his inauguration demanded from Ghanaians their active involvement when he used the words of President George Bush, even though plagiarized, asking Ghanaians to be citizens and not spectators. This he saw as a way to have everyone play an active part towards the realization of their Agenda for change. He subsequently has sought to unite the country and made no actions, decisions or statements that will tend to bring in an element of discrimination against some section of the Ghanaian citizenry. One would have thought that after making such statements and calls, the president will frown on any action of this nature and act immediately. But it is unfortunate that such a person is still yet to react after some days have gone by since this unfortunate statement was made.
Public officials before assuming office always take the official Oath under which they solemnly affirm to uphold, preserve, protect and defend the constitution of the republic of Ghana as by law established. In instances where they act contrary to their Oath, they are to avail themselves to face the consequence of their actions. It is in this regard that we the members of TEIN-ASHANTI REGIONAL CHAPTER are calling on H.E Nana Addo Danquah Akufo-Addo to with immediate effect take due action and revoke the appointment of Mr. George Ayisi Boateng as the High Commissioner to South Africa.
This is because Mr. High commissioner has emphatically stated that he doesn't regret making such statements and so its difficult to believe that his apology is sincere. Some factions of the TESCON community like the GIMPA KUMASI CAMPUS are heavily lauding those comments even after the malnourished apology. His act is a slap on Article 12 and a violation of Article 17 of the 1992 constitution as well as his oath of office as High Commissioner.
We further again caution the president on any subsequent decision that will seek to put Mr. George Ayisi Boateng in another public office because he is unfit with this motive of his. It will be of no concern to us if the president out of sympathy would want to appeal to the NPP to create a new appointment for Mr. George Ayisi Boateng as the High Commissioner of the NPP to South Africa. This is because we believe he will have an independent and free will to implement his motive without having to act contrary to the code of his office. We also want to caution TESCON members and their leadership to desist from endorsing such embarrassing comments because it betrays their mandate as an intellectual wing. Ladies and gentlemen, this is our demand and we thank you all for making it a point to be here.
God bless our motherland Ghana!