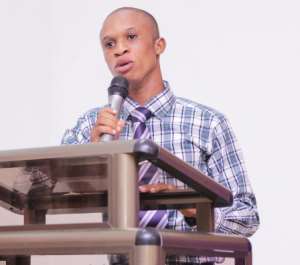 The Author
One of the most attacked institutions of state is the police service. It is not the case only in Ghana, but even in the developed nations. The police institution has been chastised on four legs which are honesty, brutality, effectiveness and courtesy towards the public according to research conducted and replicated in the work of Ghana's most renowned criminologist and penologist, Professor Chris Abotchie (Treatment of Criminals and Crime Prevention).
The police have been criticised to the extent that many people say they have lost interest in the police. There is the temptation to regard all police men and women as corrupt and unprofessional because of the attitude of some of them. I strongly believe it is very unfair to treat all police officers the same when it comes to their professionalism and work.
In our bid to ensure that the police exhibit high standards, we must not demonise the professional and patriotic ones because if we do, we demoralise the good ones from leading the way. The good and professional police officers are also human and may be forced to follow the unprofessional ones if society does not acknowledge their diligent and professional work. In fact, if we cannot celebrate them, then let us not also speak ill of them. The hasty generalisation and attacks on all police officers are too much, unfortunate and must end in earnest.
Few weeks ago, I attended a ceremony at Wenchi in the Brong Ahafo region. On my way back, I witnessed an incident which has compelled me to write about the police. In fact, when the car I was on got to Samproso, we were made by one Asamoah Boateng to park the car for some checks.
Even though, that was the first time I witnessed such checks and that I should have ordinarily gotten angry for delay, I was very cool because of the professional manner by which the police officer acted and spoke. Such a young officer with his colleagues on duty that day won my heart and must be commended. The professionalism I witnessed indeed took away the general negative perceptions I had about police officers. This for me should teach us a lesson not to lump all workers in a profession together be it politics, health or security.
I want to end by re-echoing my point that let us not be quick to tag all police officers as corrupt. Let us rather single out the corrupt and unprofessional ones and cause them to face the full rigors of the law as we encourage the professional and patriotic ones to serve with honesty and bravely.
Bright Agropah is a National Service Person with the Danquah Institute.
You may reach him on [email protected]