Petition For The Immediate Removal Of Ghana's High Commissioner To The Republic Of South Africa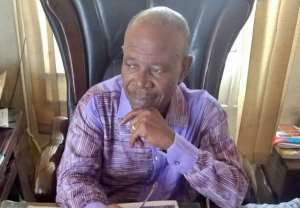 Dear President Nana Akufo Addo,
The Dynamic Youth Movement of Ghana (DYMOG), the voice and conscience of the Ghanaian Youth write to your high office with reference to the above subject. DYMOG wants to officially draw your attention to highly disastrous comments made by Mr. George Ayisi Boating on the 28th of October, 2017 at a public function in Kumasi, Ashanti Region.
It is with unreserved shock that we heard of these deeply divisive, discriminatory and nation wrecking remarks come from Ghana's High Commissioner to the Republic of South Africa- Mr. George Ayisi Boateng which has since gone viral in our public space.
In our opinion, these comments made by Mr. George Ayisi Boateng come with two grave repercussions for our Political, Social and Economic Integration as a people;
1.The comments are in sharp contravention of the cardinal essence, spirit and vision of the 1992 constitution. Vivid reference to Article 1 (1) states "The Sovereignty of the Ghana resides in the people of Ghana in whose name and for whose welfare the powers of government are to be exercised in the manner and within the limits laid down in the constitution". It is important to firmly establish that the Constitution is vehemently anchored on the corridors of Nationalism and National Integration and not partisanship!
2.These reckless comments does not only seek to introduce partisanship into National Governance, but have the potency resurrect and deepen other social, political and economic variables that encourage stereotypes, prejudice, marginalization and inequality. Hence the comments by the appointee in question contravene Article 17 (2) of the 1992 constitution-"A person shall not be discriminated against on the ground of gender, race, colour, ethnic origin, religion, creed or social or economic status".
Your Excellency, it is at the back ground of the above mentioned reasons that we are invoking your powers under chapter 8 of the 1992 constitution to relief Mr. George Ayisi Boateng of his post with immediate effect. To be very emphatic we demand of the above mentioned relief within five working days.
DYMOG is very confident that, the removal of Mr. Ayisi Boateng will whittle the growing public perception of Ghanaians on the insensitivity of government to issues of social cohesion, marginalization, vigilantism, political recklessness, shared prosperity and narrowing equal opportunity for all.
We count on your usual cooperation and look forward for a prompt response to our petition.
Please indicate in writing, the receipt of this petition.
Thank you.
Yours faithfully,
Edward Tuttor.
Executive Convener.
Mobile: 0243402814
Cc:
Speaker of Parliament
Chief Justice