Parliament approves car loans for MPs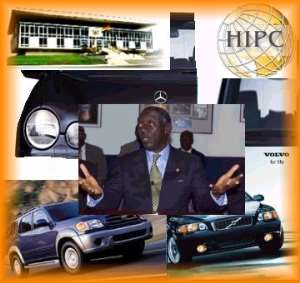 ...but admit Plight of cocoa farmers is very horrible Accra, July 5, GNA - Parliament has authorised itself to contract a cedi equivalent of seven million dollars for the purchase of vehicles for members. The loan is to be repaid by four years with an interest rate equivalent to yearly Treasury bill rate plus two per cent per annum. The loan has the unconditional guarantee of full payment by the government. Presenting the report of the Finance Committee on the loan agreement, Mrs Grace Coleman, Chairperson said in order for members to be effective and efficient they need to procure very strong vehicles for shuttling from their constituencies to Parliament.
She said members were contracting the loans themselves to buy vehicles for official use instead of being provided by the Office of Parliament.
Mr Alban Bagbin, Minority Leader said Parliament has to "struggle against the tide always" for government to access loans for members to buy duty vehicles.
He said unlike their colleagues in the presidency and the judiciary who are given duty cars Members of Parliament have to rely on loans, which they repay with their salaries.
The Minority Leader said the life of a parliamentarian was sometimes a sad story.
"After office he cannot even get a job because he is seen as a partial politician.
Mr Bagbin said most of the time information about their welfare matters were not well packaged for public consumption hence the lashing and insults.
Mr Felix Owusu-Adjapong, Majority Leader said for the first time in the country's history Parliament was contracting loans for members. He expressed the hope that other pressing welfare matters would be resolved soon.