Missing Files: UEW VC Among Other Officials Ordered To Step Aside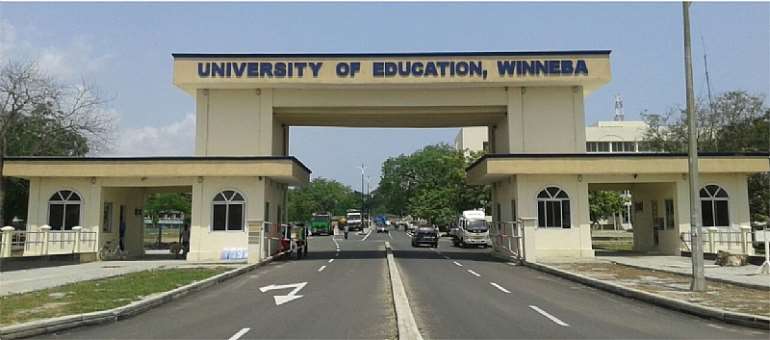 The Governing Council of the University of Education, Winneba, has asked its Vice Chancellor and four other top officials to step aside, after it emerged that some vital documents at some offices at the centre of an ongoing investigation had been removed at night.
The school is currently under investigation after a complaint was filed by one Supi Kofi Kwayera, alleging financial and procurement irregularities.
The school's council subsequently set up a fact finding committee to investigate the case.
However a statement, which was signed by the Chairman of the Governing Council, Prof. Emmanuel N. Abakah, and copied to the acting Vice Chancellor and acting Registrar, indicated that, "whilst the above-mentioned investigations are in progress, the Council has been informed of alleged removal of vital documents from files at some offices that are at the centre of the investigations at dead night."
The statement indicated that, the move will allow EOCO and other stakeholders conduct their investigations without compromise.
"Thus, at its meeting held on 31st October, 2017 to discuss the interim report of the fact finding committee, the Governing Council decided that to enable the Committee, EOCO and BNI to do a thorough work without being impeded, undermined, compromised and or shipwrecked, with immediate effect, you and the following officers should step aside while investigations are ongoing"
Persons expected to step aside include
Prof. Mawutor Avoke Vice Chancellor
Dr. Theophilus Senyo Ackordie Finance Officer
Ms. Sena Duke Internal Audit
Ms. Mary Dzimey Acting Head of Procurement
Ing. Daniel Tetteh Ag. Deputy Director of Works and Physical Development
Background
A Winneba High Court some months ago also ordered the Vice Chancellor of UEW, Professor Mawutor Avokeh, to step aside until a case brought against him and the University's Governing Council is determined.
The order also affected the institution's Finance Officer.
The order was made in a case brought before the court by Supi Kofi Kwayera, who insisted that the Vice Chancellor and the Finance Officer, were operating under the institution's defunct governing council.
The plaintiff adduced that the University's Council's mandate had expired in November 2013, but the Education Ministry failed to constitute a new Governing Council for the university, and rather allowed and permitted the defunct Governing Council which had no mandate whatsoever to continue the functions of a properly constituted Governing Council as if same had been properly constituted.
This, Mr. Kwayera insisted was unlawful, and hence his legal action against the University of Education, Winneba.
However, before the substantive claims were looked into, the University, through its lawyers, applied to the court to dismiss the suit on the three counts, but the application was dismissed.
The University's branch of the University Teachers Association of Ghana (UTAG), also applied to join the application but it was turned down.
–
By: Marian Ansah/citifmonline.com/Ghana
Follow @EfeAnsah